iMac Pro
First teased at the 2017 Worldwide Developers Conference, the iMac Pro is a workstation class machine that's aimed at pro users with demanding workflows. Though introduced at WWDC, the iMac Pro didn't become available for purchase until Thursday, December 14, with the first orders scheduled to arrive to customers on December 27.
Pricing for the iMac Pro, which is a 27-inch machine, starts at € 5,599.00 and goes up to over € 15,081.00, and the premium price tag should come as no surprise — this is the most powerful desktop machine Apple has ever built.
The iMac Pro features the same design as the standard iMac, but with an all-flash architecture and a new thermal design that supports an Intel Xeon processor with up to 18 cores and a top-of-the-line Radeon Pro Vega graphics. Apple is offering 8- to 18-core configurations, with 8- and 10-core models available for order as of December 14 for delivery around the new year and 14- and 18-core configurations shipping estimates of around late January or into February 2018.
A dedicated Apple-designed T2 processor integrates the SMC, image signal processor for the camera, audio control, SSD control, a Secure Enclave, and a hardware encryption engine, bringing new functionality to the iMac and ensuring greater security.
The iMac Pro is equipped with a high-quality 5K display that supports 1 billion colors and it comes in a unique space gray enclosure with matching (and exclusive) space gray accessories, plus a black Lightning cable, the first Apple has released. Aside from these unique design elements, the iMac Pro is otherwise similar in design to the existing 27-inch iMac.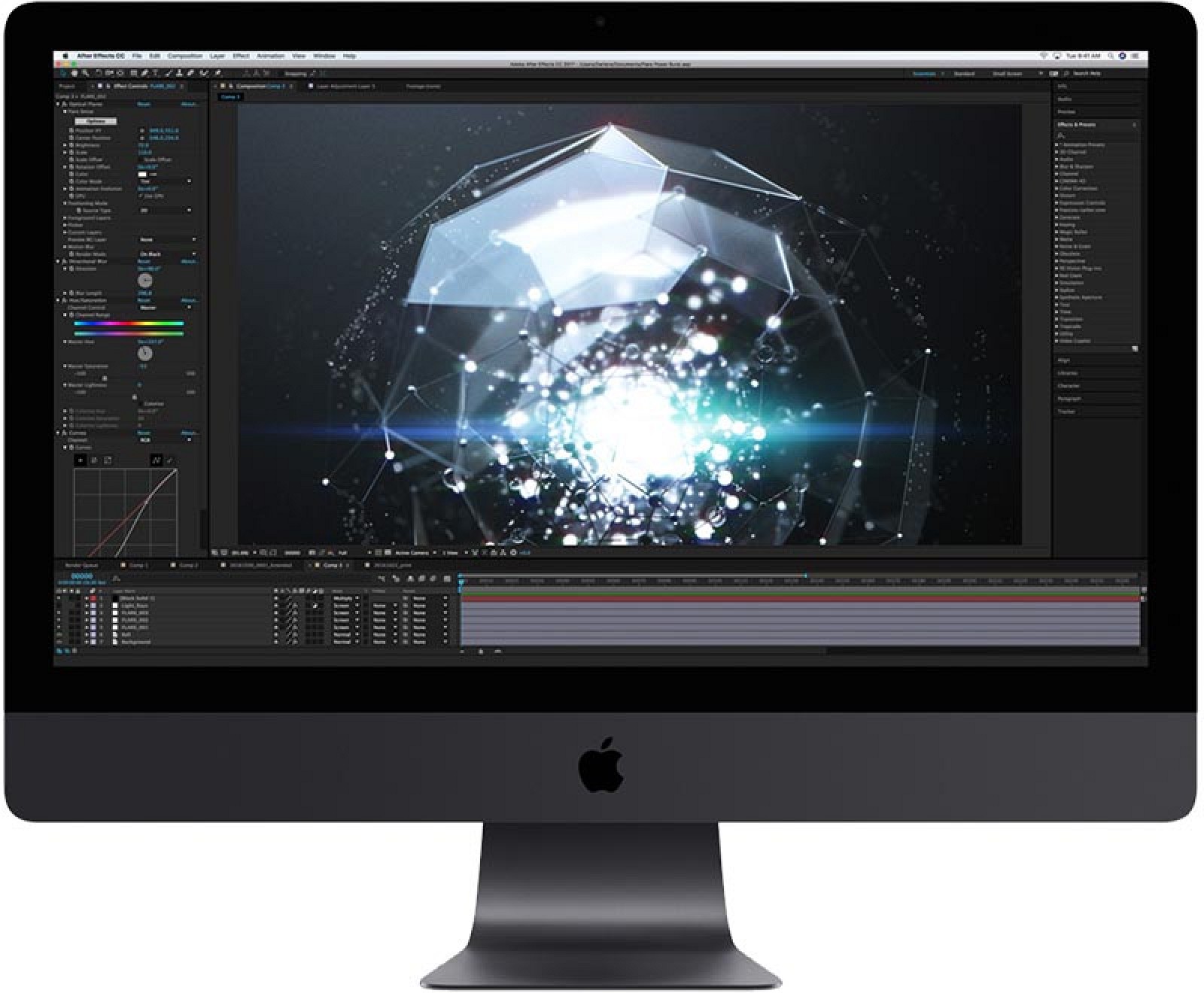 iMac Pro features four Thunderbolt 3 ports powerful enough to drive multiple 5K displays at once, and it supports up to 4TB of solid state storage, 128GB of ECC RAM, and a Radeon Pro Vega 64 graphics card with 16GB of HBM2 memory.
Apple
began taking orders for the iMac Pro on December 14
, marking the first step towards a serious effort to meet the needs of the pro Mac user base. Following the iMac Pro, Apple will introduce a high-end high-throughput modular
Mac Pro
machine that will support future upgrades to increase its longevity.
iMac Pro Reviews
Ahead of the launch of the iMac Pro, Apple allowed several creative professionals and YouTubers to go hands-on with the new machine.
Marques Brownlee, aka MKBHD, a well-known tech YouTuber, said the new iMac Pro is powerful but offers near silent operation, with a gorgeous display and enclosure. The new iMac Pro is significantly faster than the 2013 Mac Pro and the existing iMac lineup.
 Brownlee felt the iMac Pro is priced appropriately, and when he priced out a similar PC with nearly the same tech specs, it was came out to € 6,100.00. The biggest iMac Pro downside is that it can't be upgraded post purchase.
Engineer Craig Hunter said the iMac Pro "makes a strong visual impression" and also offers impressive performance and productivity. He used the iMac Pro for running computational fluid dynamics and said it was the fastest of the 10 systems he's tested over the last 10 years by a wide margin.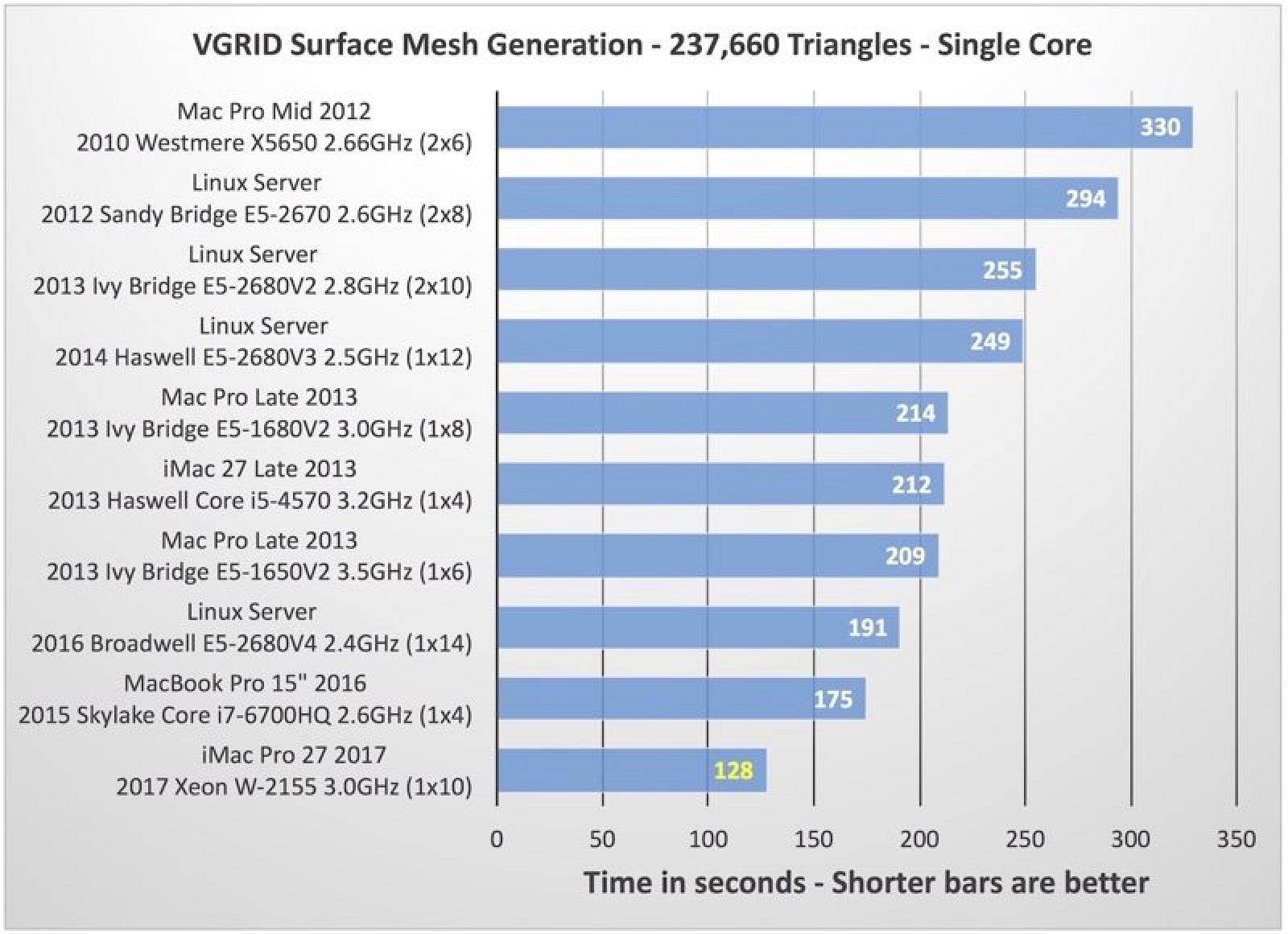 Photographer Vincent Laforet found that the iMac Pro offered a 2x to 3x speed boost compared to his current iMac for his photography and video workflows. When editing 8K RED video, 4K drone footage, and 6K VR content, he saw a 200 to 300 percent improvement in performance. He called the iMac Pro a "KILLER machine for any serious photographer, filmmaker, or VR producer.
Design
The iMac Pro looks much like a standard iMac, with an ultra-thin slim-bodied design and a minimal footprint, but it is set apart with a unique space gray enclosure and a new thermal design that delivers 80 percent more cooling capacity and 75 percent more airflow to support up to 500 watts of power, which equates to 67 percent more power than the previous iMac.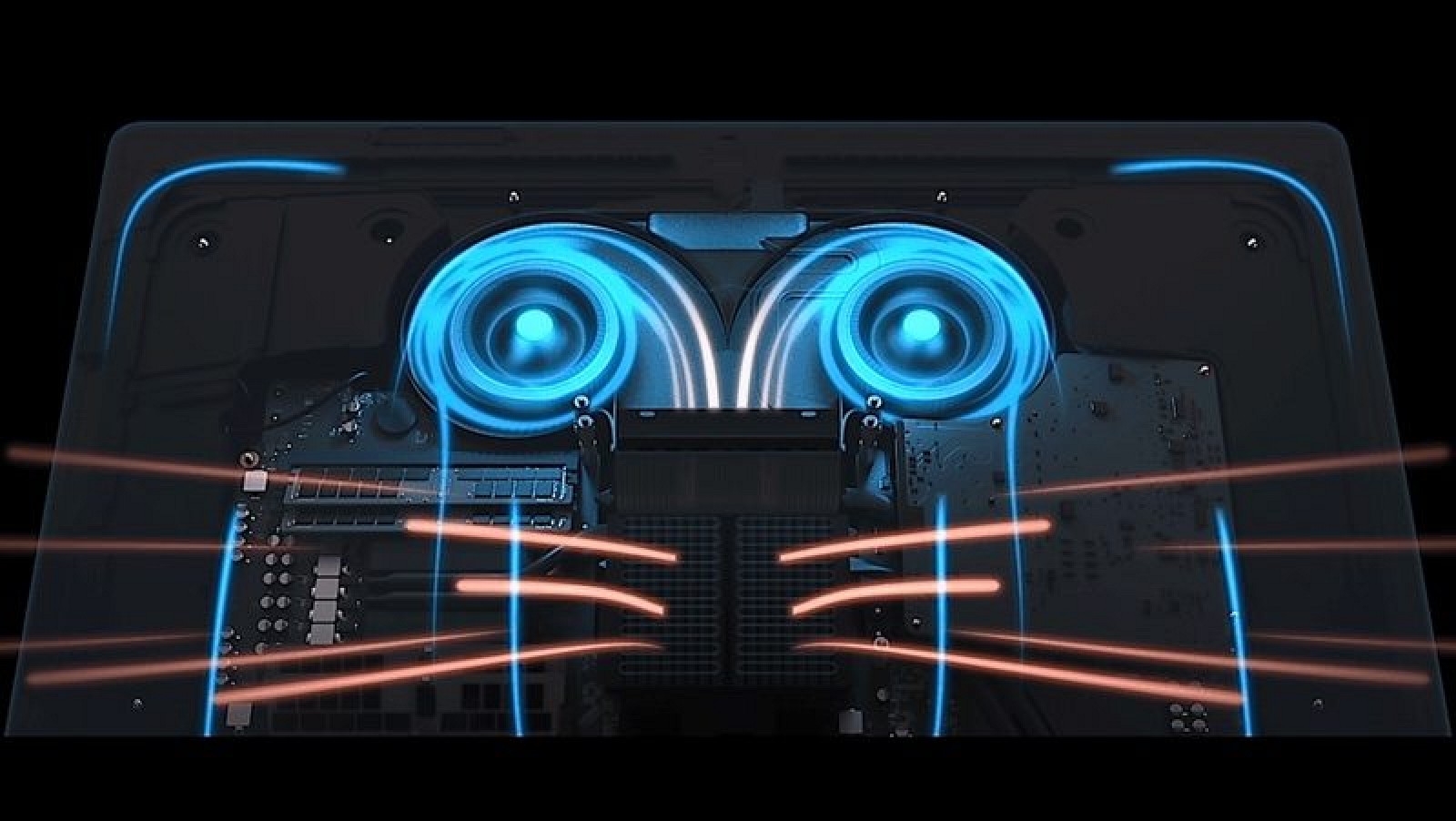 The new thermal design results in a wider ventilation grill at the back of the machine. While standard 27-inch iMacs feature a hatch at the back to allow RAM to be upgraded, there is no such hatch in the iMac Pro, as it is not upgradeable. The lack of upgradability is one of the major downsides to the new machine, with no way for users to swap out the RAM, processor, or hard drive.
iMac Pro owners can get the RAM in the machine upgraded, but doing so will require taking it to an Apple retail store or an Apple Authorized Service Provider. Apple will not install third-party RAM in the machine, but service providers are likely willing to do so, meaning there could be a way to upgrade RAM more affordably following an iMac Pro purchase.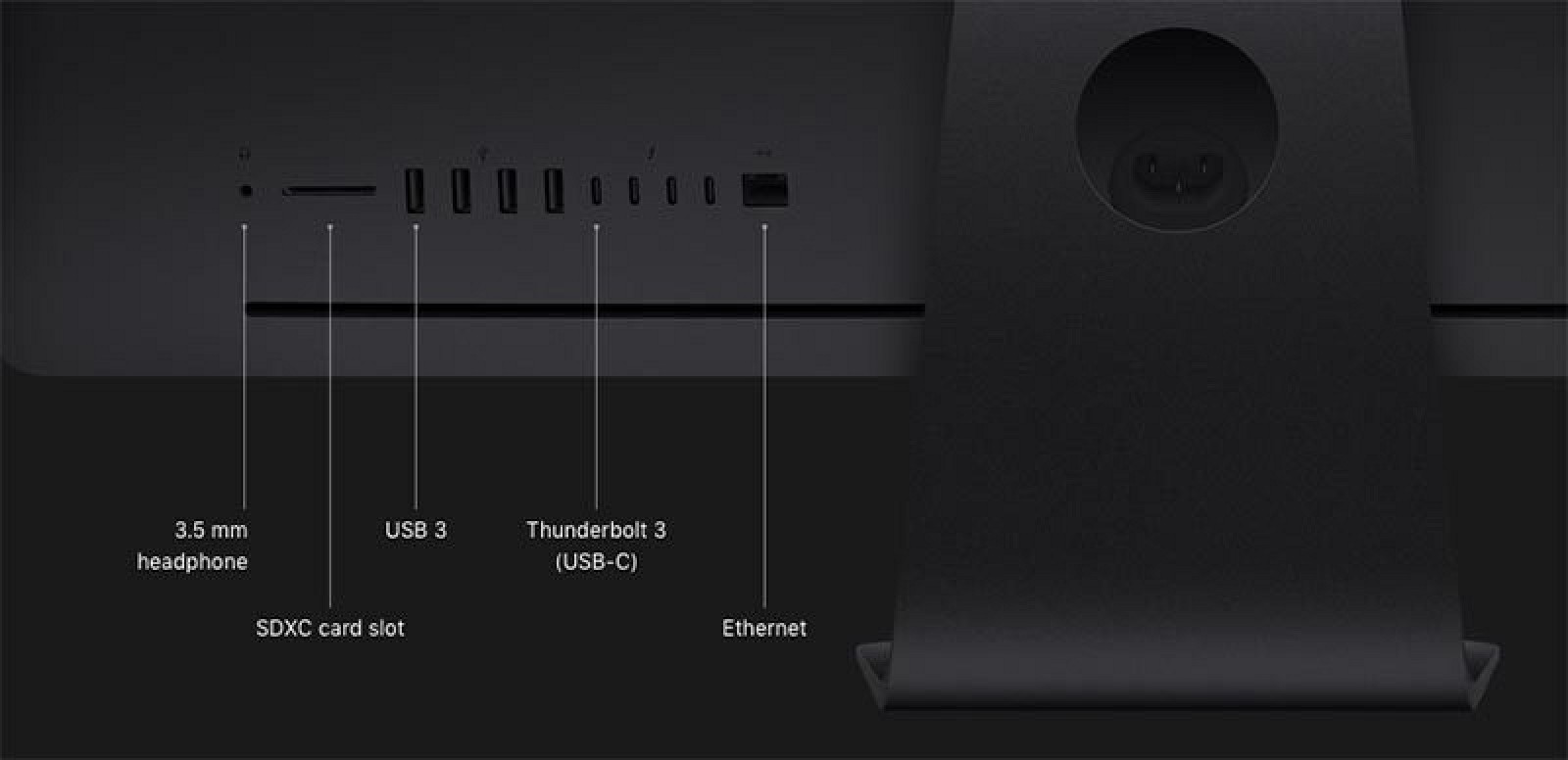 At the back of the iMac Pro, there are four Thunderbolt 3 USB-C ports, 4 USB-A 3.0 ports, a Gigabit Ethernet port, a 3.5mm audio jack, and an SD card slot.
Like the regular 27-inch iMac, the iMac Pro features a Retina 5K display that supports a billion colors with a P3 wide color gamut. It has more than 14.7 million pixels and a 500 nit brightness level, which is 43 percent brighter than previous iMac displays.
To match its new space gray enclosure, the iMac Pro ships with matching space gray accessories that are exclusive to the high-end machine and not otherwise available to Apple users. Those accessories include a wireless Magic Keyboard with a numeric keyboard, a black Lightning cable, a black Thunderbolt 3 cable, and either a Magic Mouse 2 or a Magic Trackpad 2.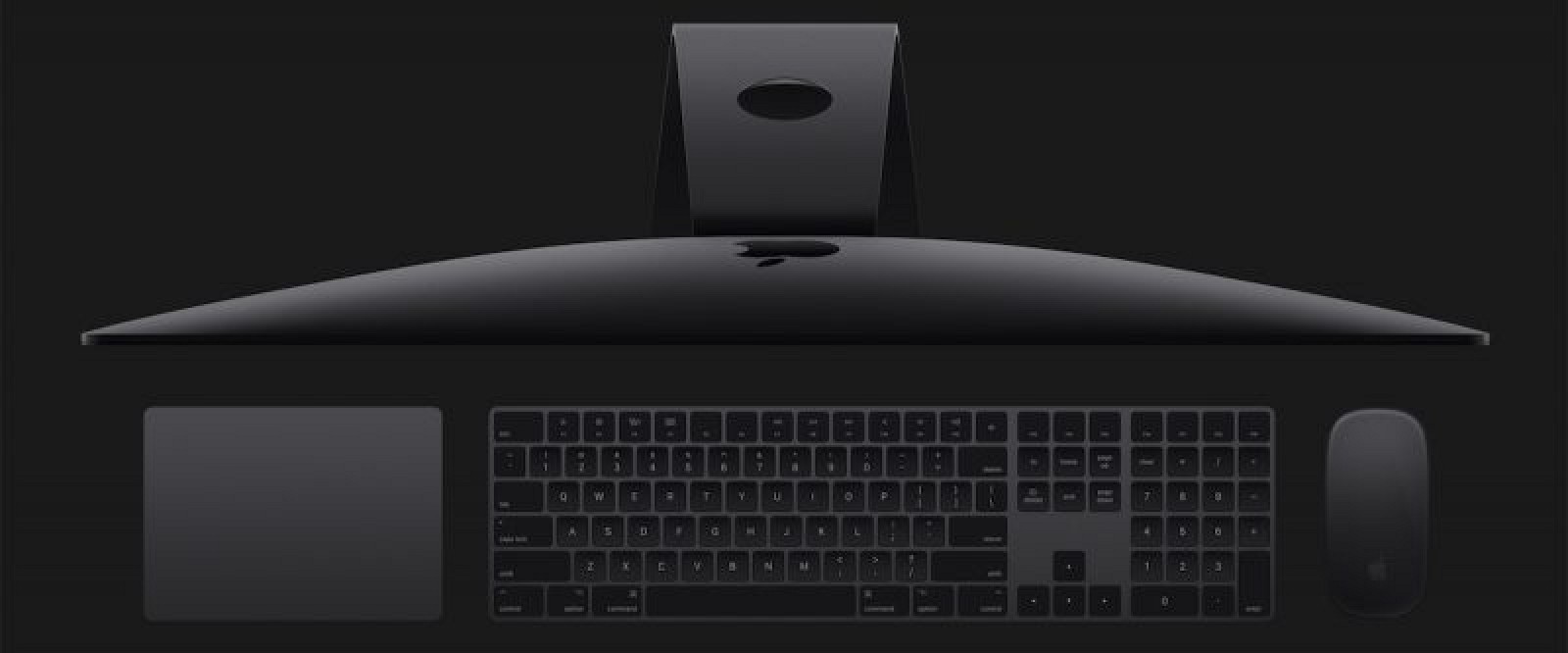 CPU and GPU
The iMac Pro uses Intel Xeon-W processors with 8, 10, 14, and 18 core chips available as optional configurations with Turbo Boost up to 4.5GHz and up to 42MB of cache. The Intel-W is Intel's new workstation-class processor, introduced in August of 2017. The Intel Xeon-W processors use an LGA2066 socket and are built on Skylake-SP architecture.
iMac Pro benchmarks have suggested the mid-range 10-core model with a 3.0GHz Intel Xeon processor is 45 percent faster than the high-end 2013 Mac Pro and up to 93 percent faster than the top-of-the-line 2017 27-inch 5K iMac.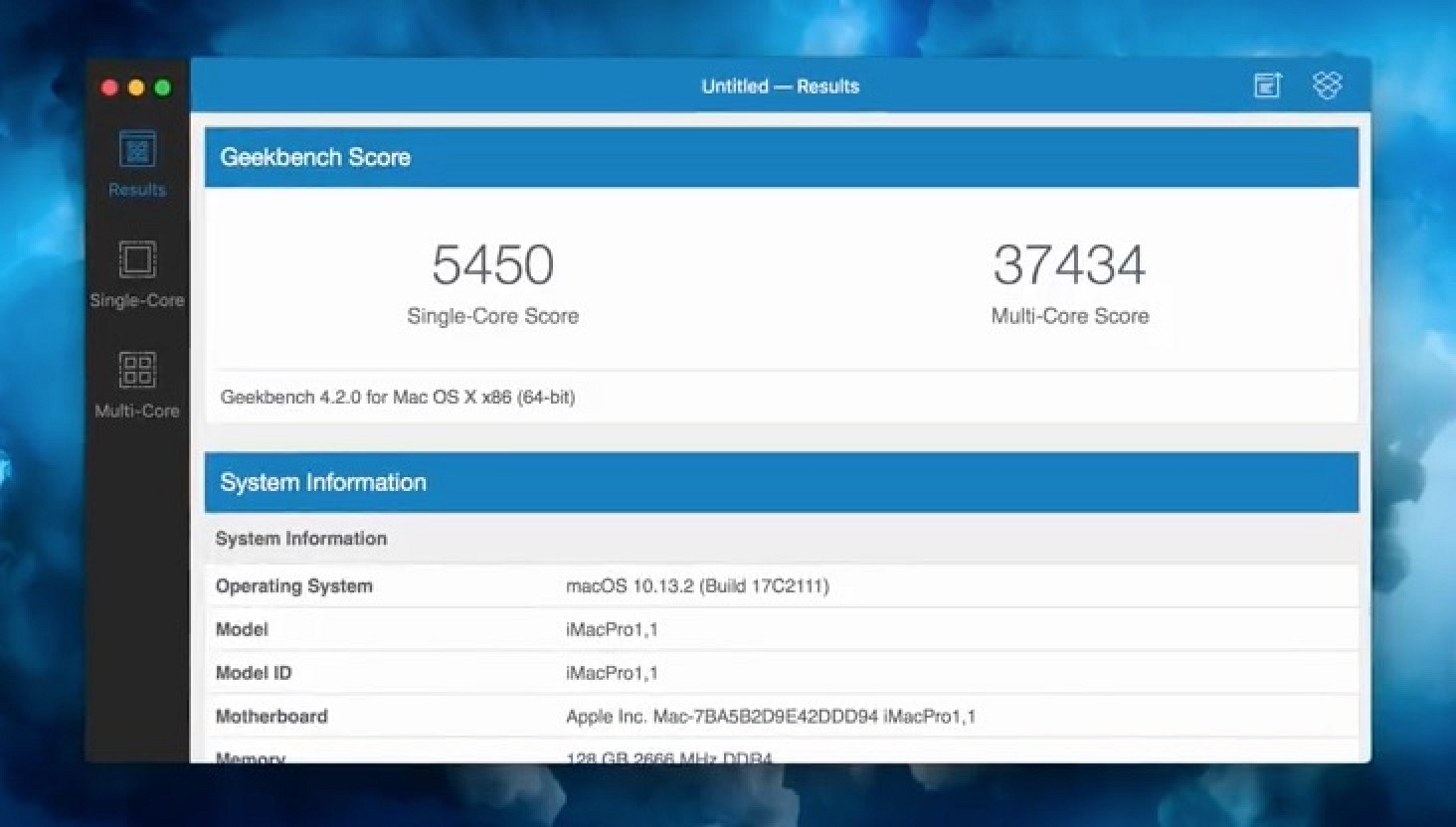 14 and 18-core models have yet to be benchmarked, but will offer even more significant performance improvements than the 10-core model. 8 and 10-core iMac Pro models will be available in December of 2017, but 14 and 18-core models won't be shipping out until early 2018.
In Apple's testing, the iMac Pro has proven to offer incredible performance improvements for a range workflows and apps, including Autodesk Maya 2018, Maxon Cinema 4D, OsiriX MD, Wolfram Mathematica, Adobe Photoshop CC, Logic Pro X, Final Cut Pro X, and more. With Final Cut Pro X, for example, the 10 and 18-core iMac Pro models offered much faster render speeds than the 12-core Mac Pro and the 4-core iMac.

With the advanced thermal cooling built into the iMac Pro, it supports AMD's newest Radeon Pro Vega, the most advanced graphics ever used in a Mac. It includes a next-generation compute core and up to 16GB of on-package high-bandwidth memory (HBM2) and 400GB/s memory bandwidth.
The high-end Radeon Pro Vega 64 delivers 11 teraflops of single-precision computing power and up to 22 teraflops of half-precision computation performance, meaning it's powerful enough for real-time 3D rendering and immersive, high frame rate VR. The iMac Pro, like Apple's new iMacs, supports VR hardware.
Apple says the Radeon Pro Vega is more than three times faster than any previous iMac GPU, packing the power of a double-wide graphics card into a single chip.
While the base iMac Pro comes equipped with a Radeon Pro Vega 56 with 8GB HBM2 memory, there is an upgrade option for a Radeon Pro Vega 64 with 16GB HBM2 memory.
T2 CHIP
Alongside the Intel Xeon-W processor, the iMac Pro is equipped with a custom Apple-made T2 chip, the successor to the T1 chip in the MacBook Pro that powers the Touch Bar.
The T2 integrates the system management controller, image signal processor for the camera, audio control, SSD controller, a Secure Enclave, and a hardware encryption engine.
The T2 image signal processor brings enhanced tone mapping, improved exposure control, and face detection-based auto exposure to the FaceTime HD camera, and it works to encrypt all the data on the SSD using dedicated AES hardware with no effect on the SSD's performance.
It also ensures a secure boot to make sure your software isn't tampered with and only OS software trusted by Apple loads at startup. Because of the T2, an iMac Pro that needs restoring might require a second Mac and Apple's Configurator software.
SSD and RAM
The iMac Pro can be configured with up to 4TB of solid state storage, though the base machine ships with a 1TB SSD. It also supports up to 128GB of 2666MHz DDR4 ECC memory, which minimizes errors in data. The entry-level € 5,599.00 machine comes with 32GB RAM, and RAM can be upgraded after purchase by Apple or an Apple Authorized Service Provider.
Other Features
THUNDERBOLT 3
There are four Thunderbolt 3 ports built into the iMac Pro, which can power up to two high-performance RAID arrays and two 5K displays at the first time. Thunderbolt 3 supports data transfer speeds of up to 40Gb/s.
10GB ETHERNET
The iMac Pro includes 10Gb Ethernet, the first time it's ever been included on a Mac. It also supports Nbase-T industry-standard 1Gb, 2.5Gb, and 5Gb link speeds.
SPEAKERS
Enhanced stereo speakers are included in the iMac Pro, which Apple says deliver a broad frequency response, rich bass, and more volume.
SPACE GRAY ACCESSORIES
The iMac Pro comes with unique Space Gray accessories that can only be obtained through an iMac Pro purchase. These accessories include a space Gray Magic Keyboard with Numeric Keypad, a Space Gray Magic Mouse 2, and a Space Gray Magic Trackpad 2.
The Magic Keyboard and the Magic Mouse 2 are included in the purchase price, but upgrading from the Magic Mouse 2 to the Trackpad 2 will cost € 50.00 For an additional € 169.00, customers can get both the Magic Mouse 2 and the Magic Trackpad 2.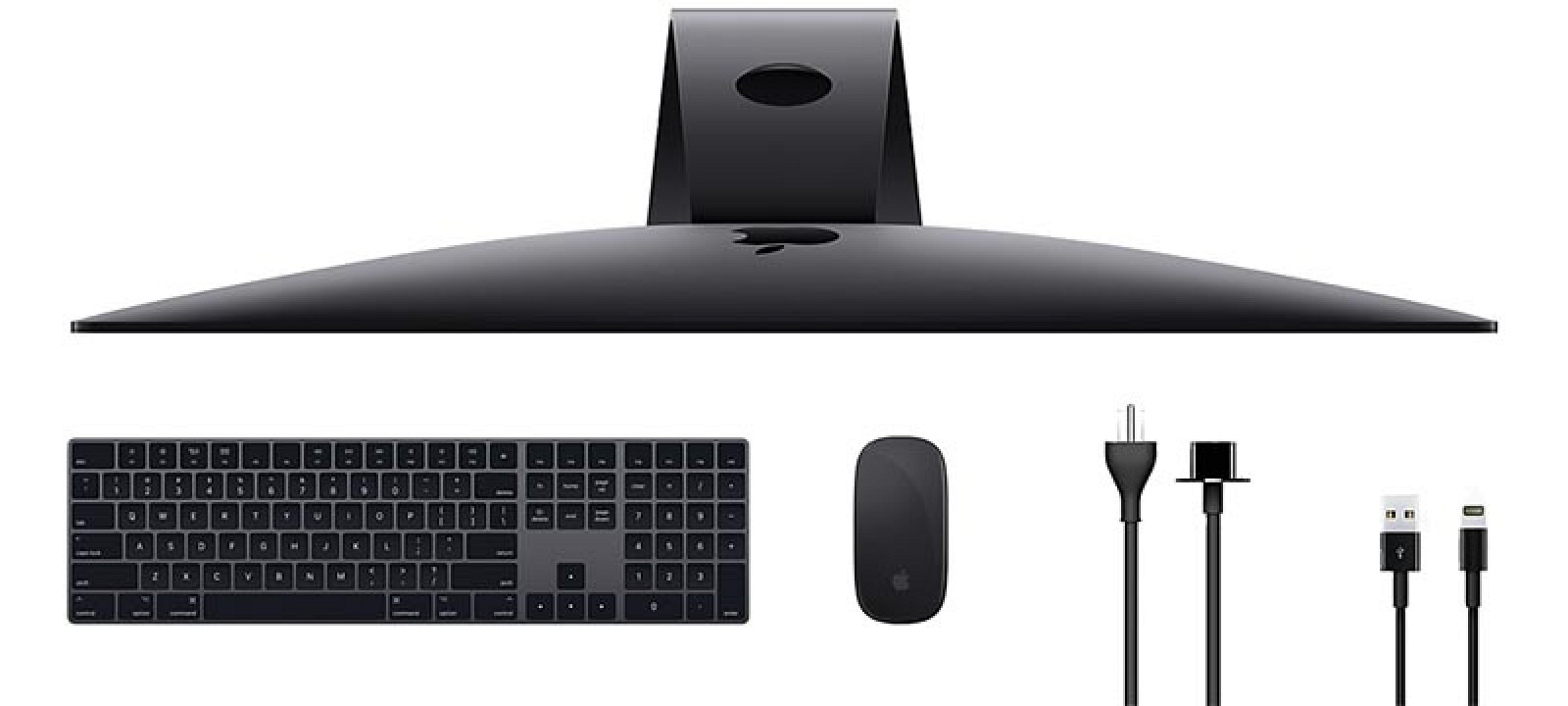 Apple also includes a black Thunderbolt 3 cable and a black Lightning to USB-A cable with the iMac Pro, both of which are also exclusive to the machine.
For those who want to mount the iMac Pro to the wall, there is a VESA Mount Adapter Kit available in Space Gray for € 89.00. Unlike other accessories, the VESA mount can be purchased without an iMac Pro, so it is something iMac Pro owners can pick up after purchasing a machine.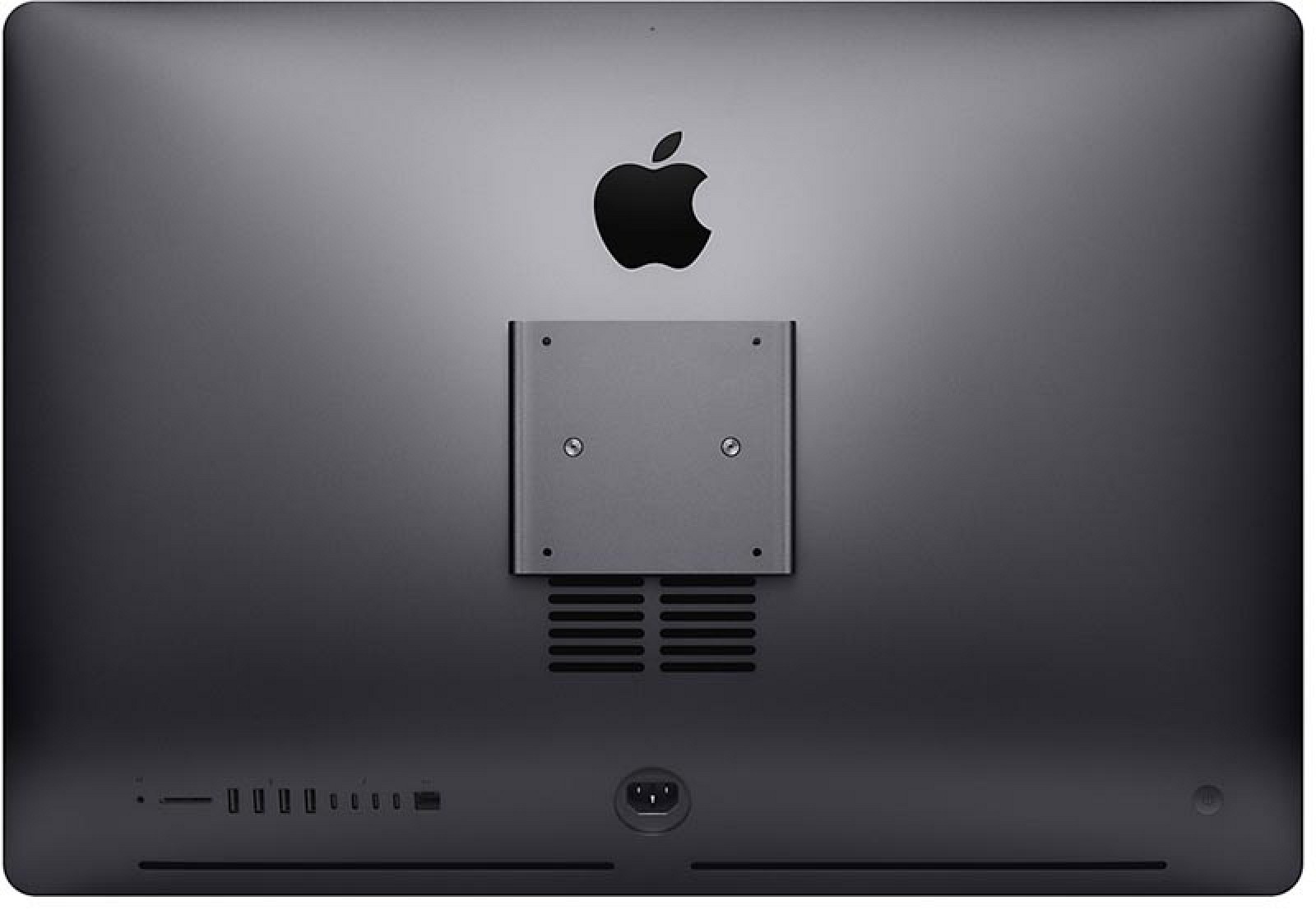 Configuration Options
Apple offers a single entry-level iMac Pro configuration that can be customized with a range of upgrades.
The base iMac Pro model is priced at € 5,999.00 and comes equipped with a 3.2GHz 8-core Intel Xeon W processor with Turbo Boost up to 4.2GHz, 32GB 2666MHz ECC RAM, 1TB SSD storage, and a Radeon Pro Vega 56 with 8GB HBM2 memory.
Apple also has several "Recommended Configurations" with 8 and 10-core processors, upgraded RAM, improved graphics, and more storage, but there are upgrade options even beyond these recommended configurations.
Below, we've listed all of the available upgrade options and their price when added to the base machine.
BUILD-TO-ORDER
CPU
3.0GHz 8-core Xeon processor: + € 960.00
2.5GHz 14-core Xeon processor: +€ 1,920.00
2.3GHz 18-core Xeon processor: +€ 2,880.00
RAM
64GB 2666MHz ECC RAM: + € 960.00
128GB 2666MHz ECC RAM: +€ 2,880.00
GPU
Radeon Pro Vega 64 with 16GB HBM2 memory: +€ 720.00
SSD
2TB SSD: +€ 960.00
4TB SSD: +€ 3,360.00
With all available upgrades, a top-of-the-line iMac Pro with a 2.3GHz 18-core Xeon W processor, 128GB RAM, 4TB SSD, and a Radeon Pro Vega 64, costs € 15,680.00. That's € 10,081.00. over the base price.
Thanks to www.macrumours.com for the words
Apple Launch the iMac Pro