Apple's new iMac gets a welcome redesign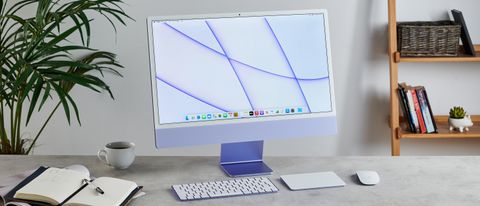 The new iMac (24-inch, 2021) is not only an impressive improvement over its predecessor in almost every way, it's also the boldest reinvention of Apple's iconic all-in-one Mac for almost 15 years.
It features a whole new look that's both sleek and modern, and it's a very welcome update, as the previous design was beginning to feel rather stale.
It also comes in a new size, 24 inches, which replaces the 21.5-inch iMac model (the 27-inch iMac remains on sale). Impressively, despite the larger screen size, the new iMac (24-inch, 2021) isn't actually that much larger than the 21.5-inch model, with dimensions of 54.7 x 46.1cm and a depth of just 14.7cm (the screen itself is just 11.5mm thin), compared to its predecessor's dimensions of 52.8 x 45cm and a depth of 17.5cm.
This means you're getting a fair bit more screen real estate on the new iMac, but without a significant increase in overall size; in fact, due to it being noticeably thinner, and also lighter than its predecessor (4.48kg compared to 5.68kg), the new iMac is a more versatile all-in-one PC, as it's easier to carry around and set up.
Apple has also released the new iMac (24-inch, 2021) in seven vibrant colors, which harkens back to the days of the iMac G3 and shows a confidence and playfulness from Apple that's very welcome. In a nice touch, the Magic Keyboard, Mouse and Trackpad all come in the same color as the iMac you choose, and elements of the macOS Big Sur user interface are also in the same color. It's a lovely overall effect.
The new iMac achieves the feat of being almost as small (and thinner and lighter) than its smaller predecessor in large part due to perhaps the biggest change under the hood: it's powered by the Apple M1 chip, rather than Intel hardware. As we've seen with the MacBook Air (M1, 2020), MacBook Pro 13-inch (M1, 2020) and Mac mini (M1, 2020), this move to Apple's own silicone has largely been a success. The macOS Big Sur operating system is fast and snappy, and new apps designed for the M1 hardware run brilliantly. Even older Intel-based apps run well thanks to Apple's Rosetta 2 tool, and you can also run iOS apps and games, giving you access to thousands of titles.
Thanks to the gorgeous new 4.5K Retina screen, great speakers and a fantastic webcam, working and creating on the new iMac is a joy. This isn't the most powerful PC out there, however, as it doesn't come with a dedicated graphics card, and nor can you use an external GPU. Memory is also capped at 16GB, so if you're looking for a powerful workstation PC this may not be for you.
Thanks to the guys in https://www.techradar.com for the words
iMac (24-inch, 2021) review