Apple in June unveiled its 2019 Mac Pro, marking the first new Mac Pro since 2013, when Apple released the cylinder-shaped "trash can" machine that never saw any updates after dual GPUs fell out of favor and focus shifted to more powerful single GPU options.
The new Mac Pro is a high-end high-throughput machine designed for Apple's pro user base. Apple learned from its mistakes and the thermal limitations of the design of the 2013 Mac Pro and the new Mac Pro features a design that's similar to the rectangular 2012 Mac Pro, focusing heavily on upgradeability and expansion.
While the 2019 Mac Pro features a more traditional PC shape than its predecessor, it's still Apple-esque with a stainless steel frame and an aluminum housing that provides 360-degree access to the system. There are also optional wheels.
Handles are built into the frame to make the Mac Pro easy to move around, and it adopts a lattice design that some have likened to a cheese grater. Apple says the lattice pattern maximizes airflow and allows for quiet performance.
Pricing on the Mac Pro starts at $6,000, so this is a machine that was unquestionably created for professionals who need the absolute best performance available.
The Mac Pro uses workstation-class Xeon processors with up to 28 cores with 64 PCI Express lanes, up to 1.5TB of high-performance memory, eight PCIe expansion slots, and at the high-end, dual Radeon Pro Vega II Duo GPUs housed in two Apple MPX Modules which Apple says offer groundbreaking graphics expansion architecture, providing Thunderbolt integration and over 500W of power. That's four Vega GPUs total.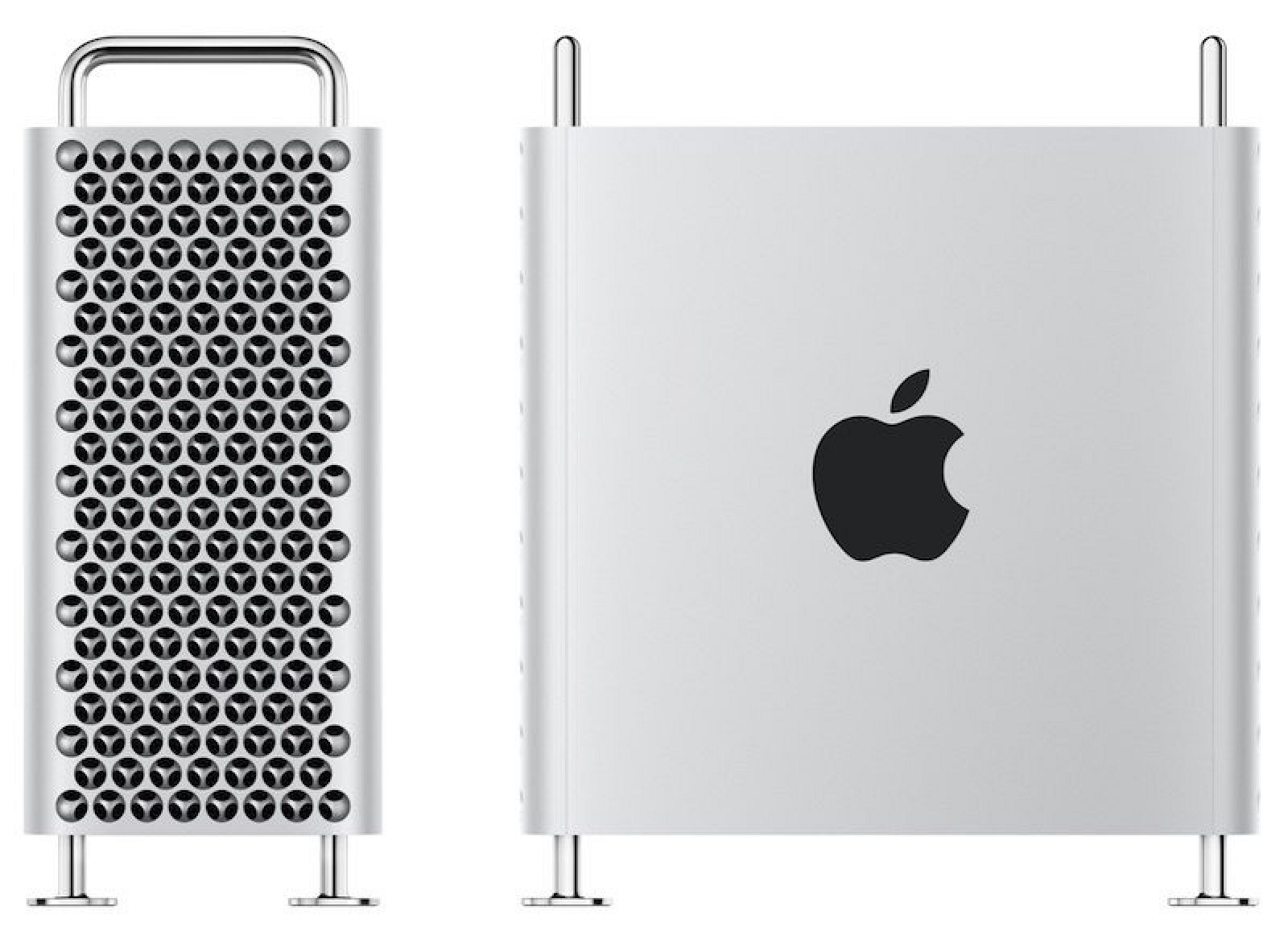 Apple Afterburner, a new accelerator card that enables playback of three 8K ProRes RAW video streams simultaneously, is new in the 2019 Mac Pro.
The Mac Pro will be sold alongside the Apple Pro Display XDR, a 6K 32-inch display with its own premium price point, $4,999, plus an additional $999 for the stand.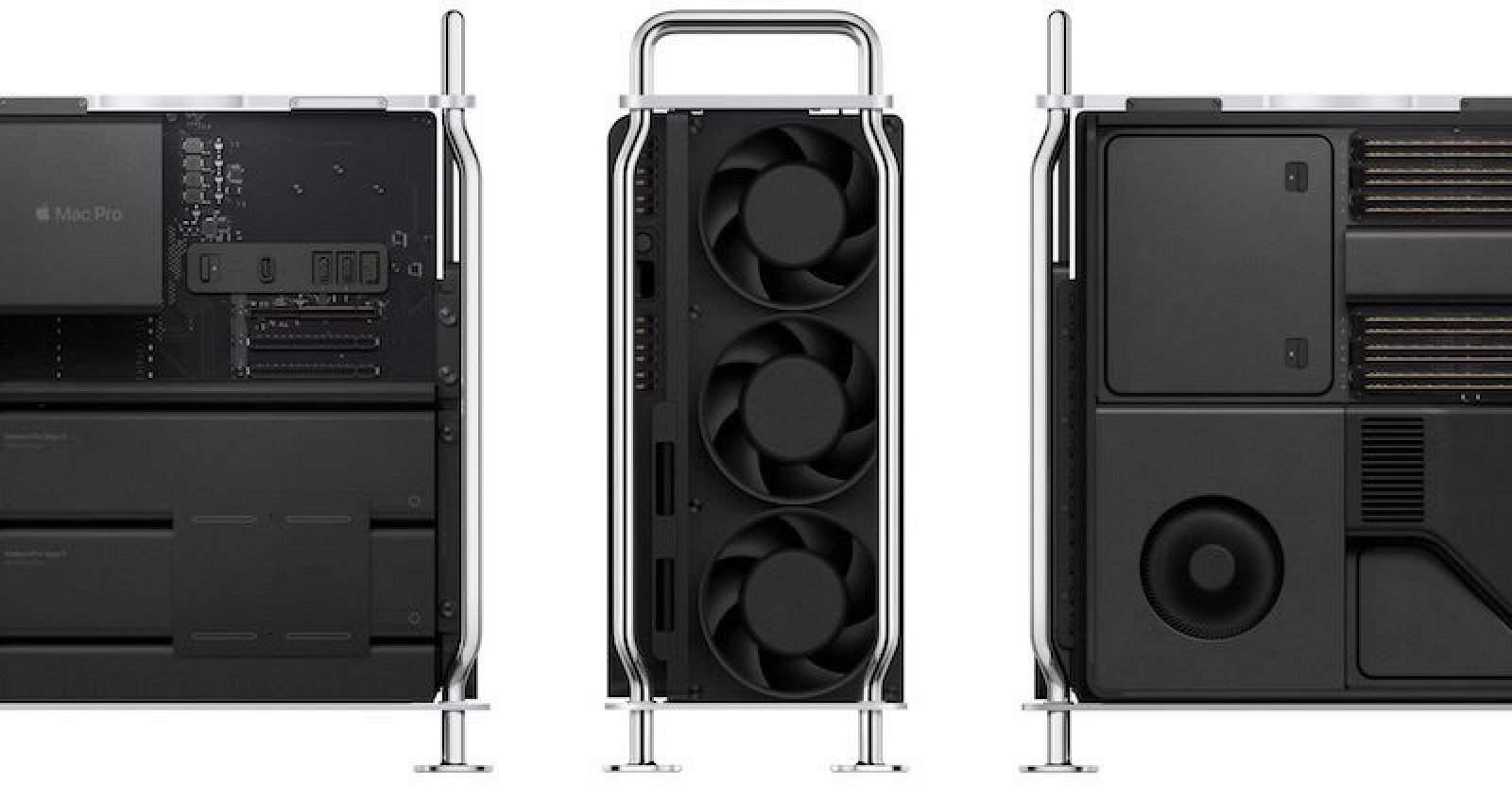 Unlike the 2013 Mac Pro, which was manufactured in Texas, the new Mac Pro will be manufactured by Quanta Computer in China. Some parts will still be made in the U.S., however, and Apple touts that it was designed and engineered in the United States.
Apple's new Mac Pro and the Apple Display XDR will be available for purchase the fall. Apple at one point had wording on its website mentioning a September release date, so we could see the new hardware in September. While pricing starts at $6,000, that's for the base machine. With full upgrades and top-of-the-line specs, the high-end Mac Pro could cost upwards of $20,000.
Design
Apple's new 2019 Mac Pro features an entirely new design that's modern, but also harkens back to older Mac Pro models. Learning from past lessons, Apple built the new Mac Pro to be modular, upgradeable, customizable, and able to handle some of the highest-end components available on the market.
It uses a traditional tower-style design, but with an Apple flare. Apple says that the Mac Pro was built to change with a person's needs, and it starts with a stainless steel frame that supports the overall system and offers mounting points for the interior components.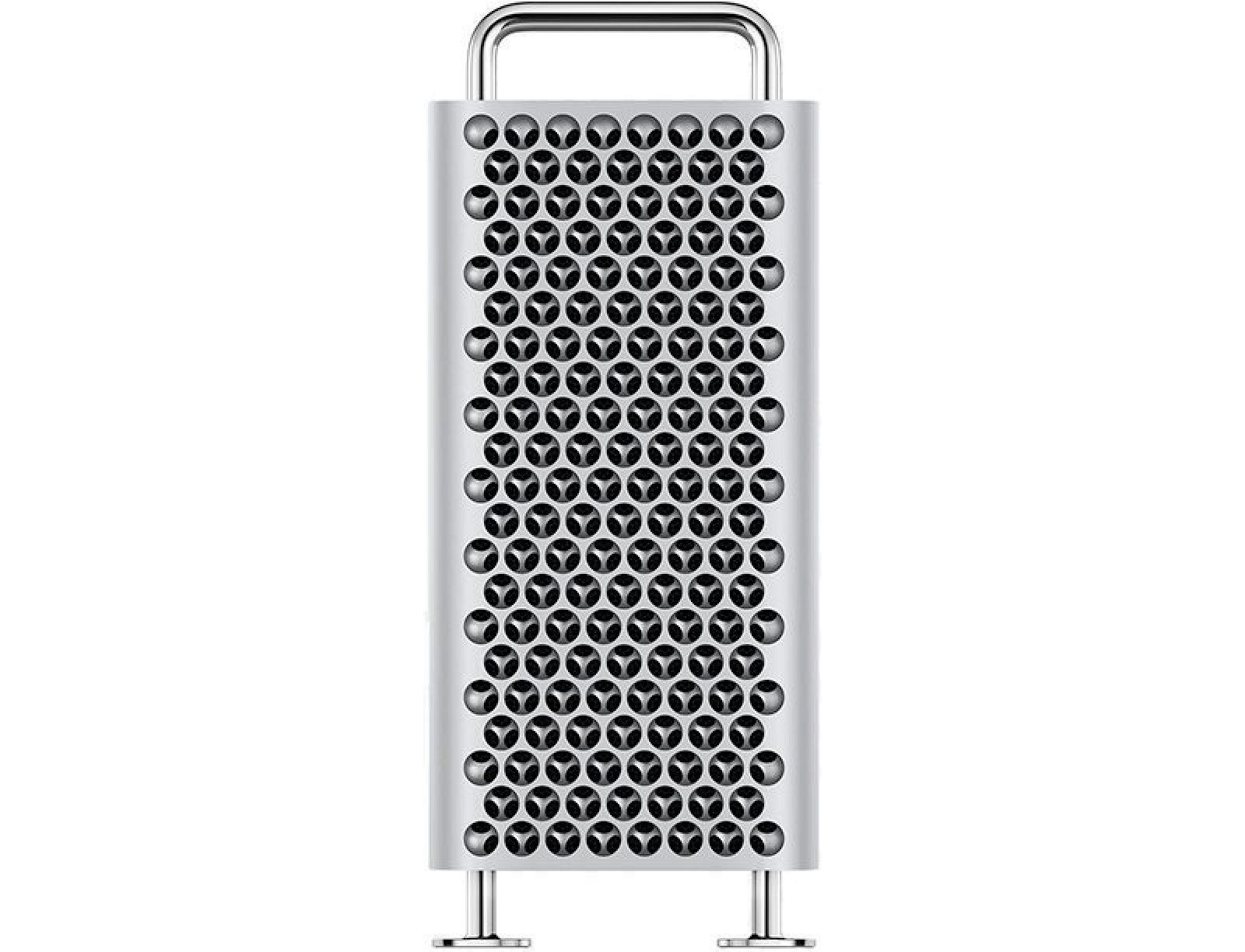 Apple designed the Mac Pro so that when the aluminum housing is removed, complete access to the system is available. Apple made the logic board dual sided to make it simple to add and remove components to the Mac Pro. The processor, graphics, and expansion are located on one side, while the storage and memory are on the other.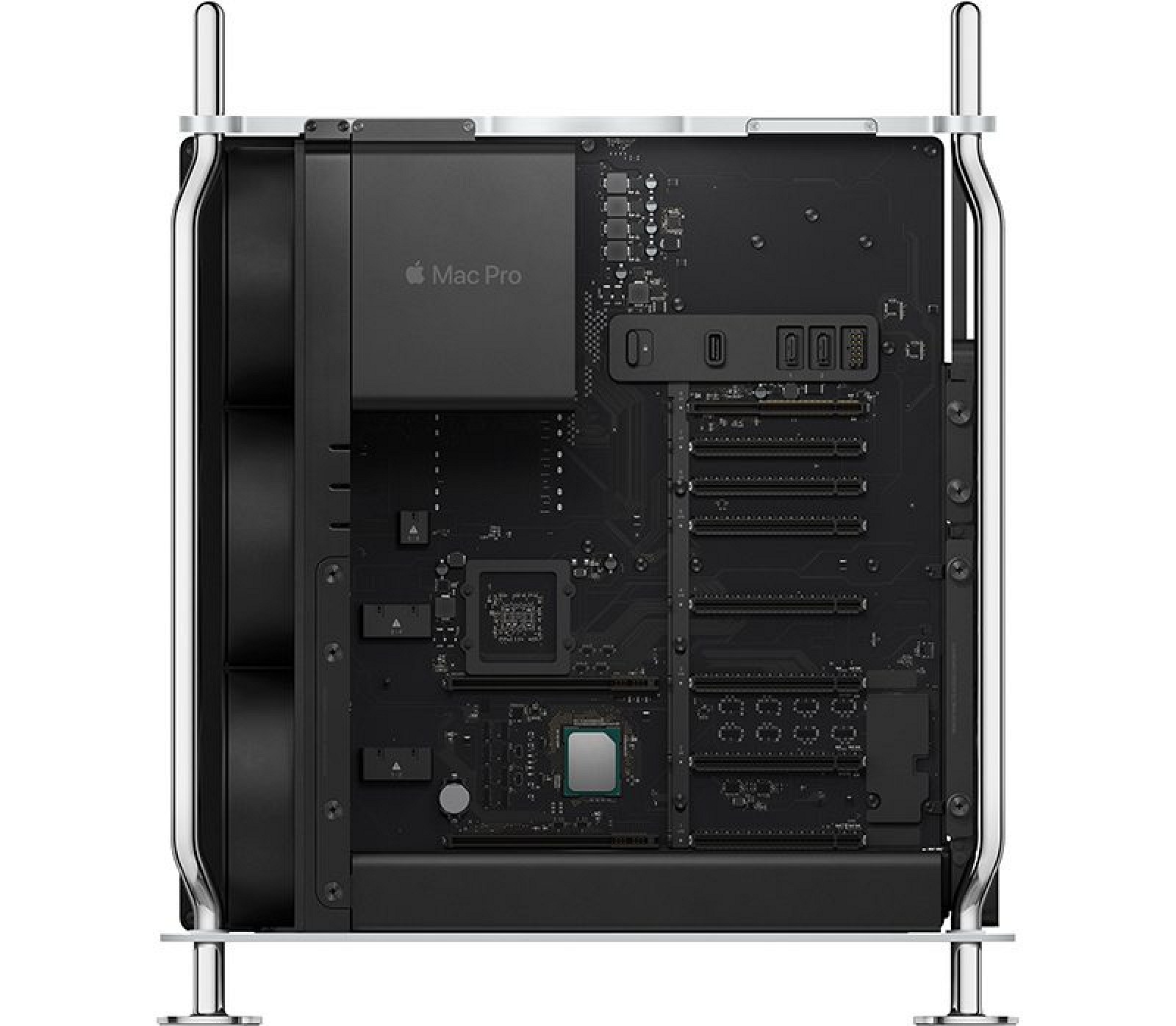 The Mac Pro uses high-end components that draw a lot of power, so Apple built the machine with an impressive thermal architecture. There are three impeller fans that push air across the CPU and GPU, and on the opposite side, there's a blower to pull air across the memory, storage, and through the power supply, venting it out of the back.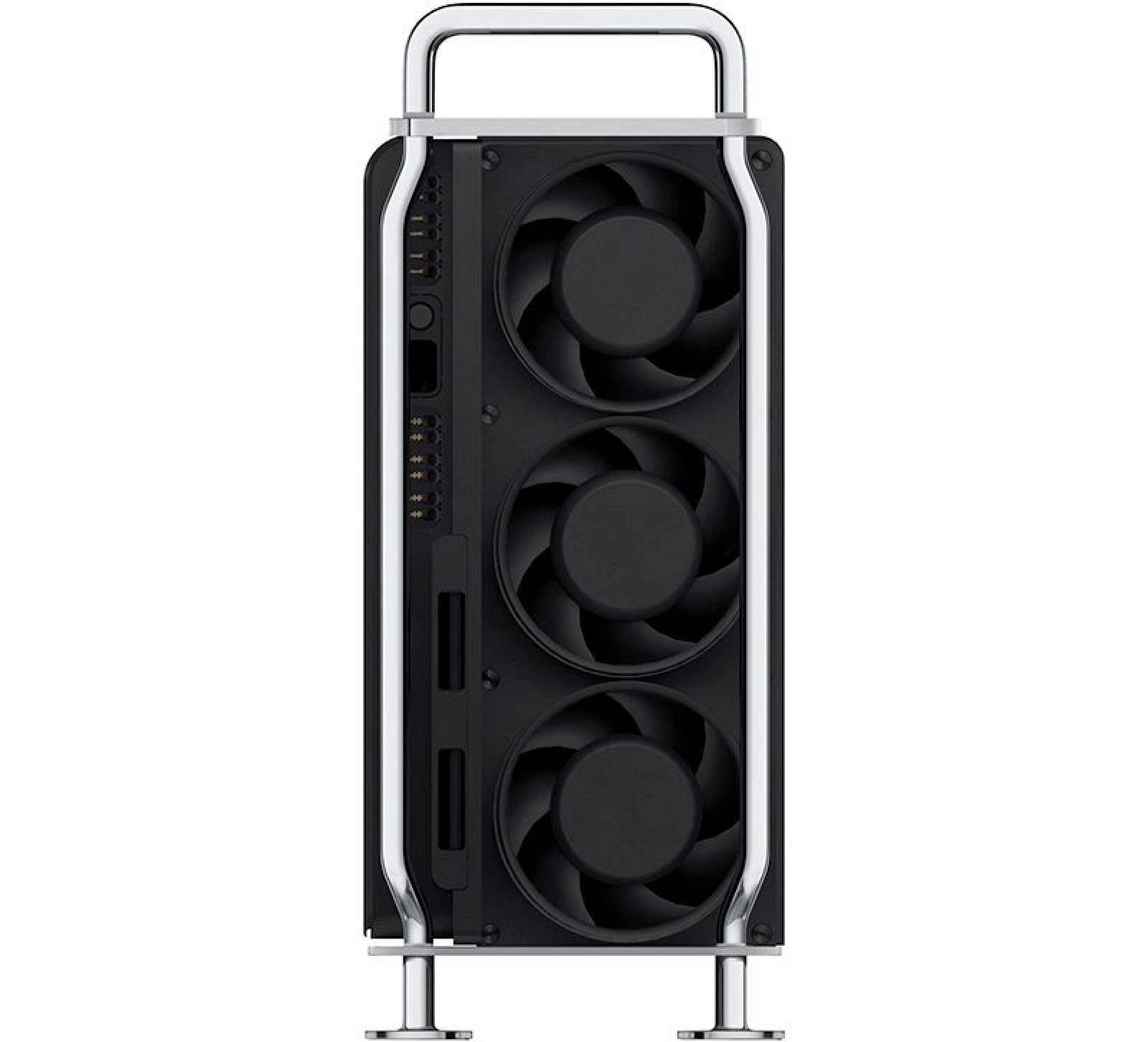 Covering the Mac Pro is an aluminum housing that Apple designed to be more than just a decorative shell. It acts as a seal for the internal cavity, and paired with the fans and blower, it helps maintain the air pressure that keeps the Mac Pro cool. With this system, the Mac Pro operates quietly, and Apple says it's even quieter than the iMac Pro when placed under a desk.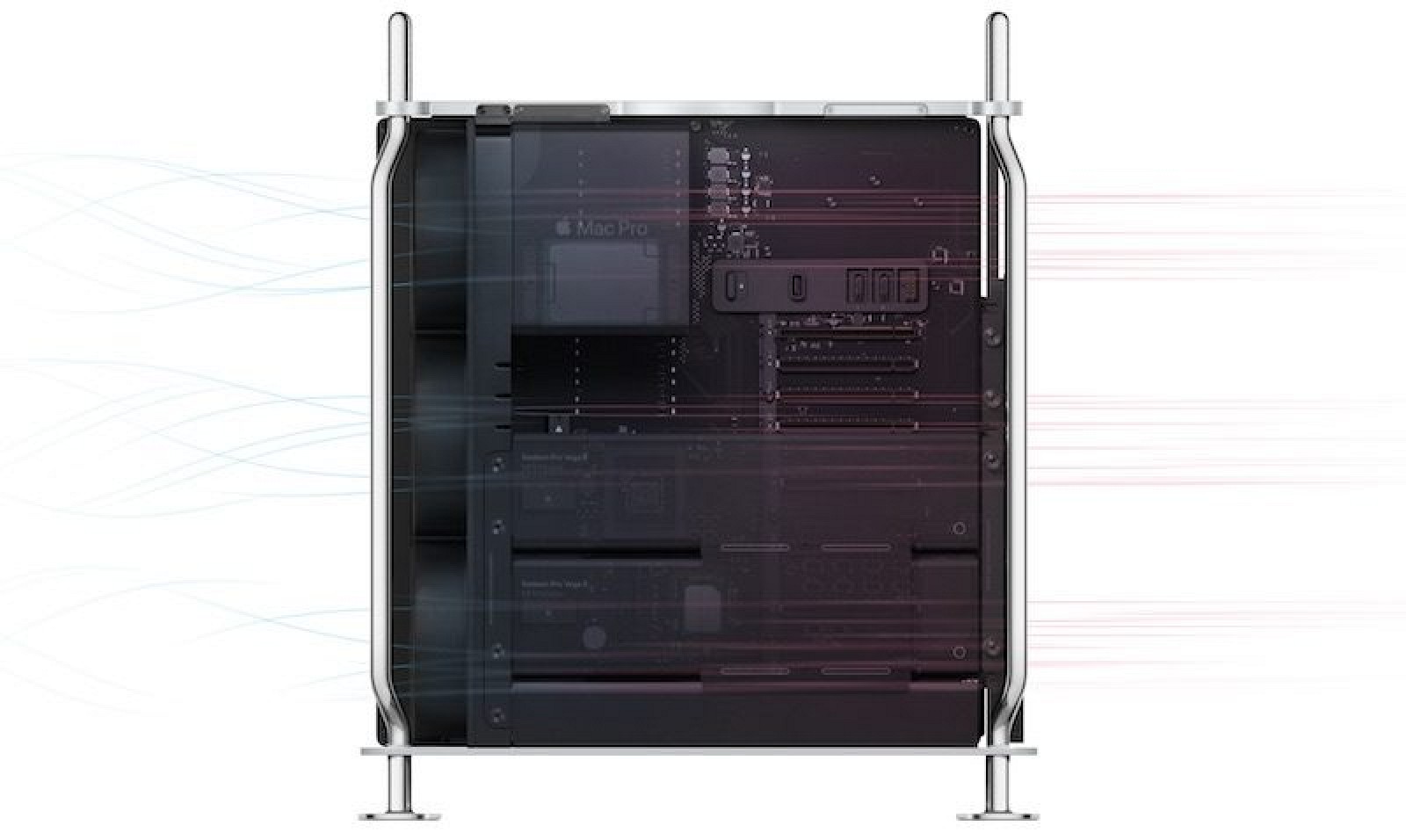 The aluminum housing is covered with a lattice pattern of three-dimensional interlocking hemispheres, which Apple based on a naturally occurring phenomenon in molecular crystal structures.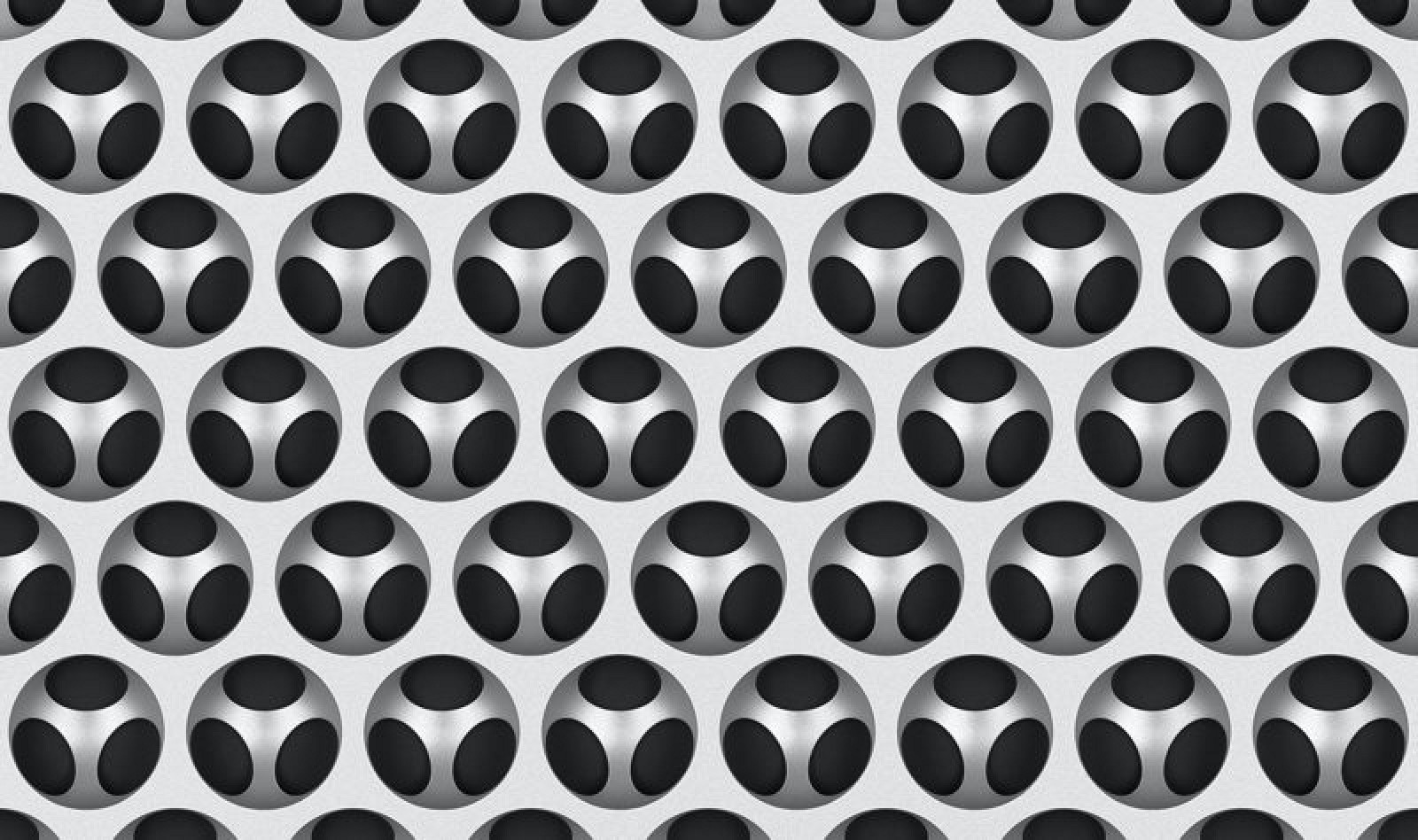 The lattice pattern increases the surface area of the Mac Pro's enclosure, which optimizes the airflow while also providing a rigid structure. Around the processor, a massive heat sink keeps everything cool, and heat pipes direct air away from the chip.
Stainless steel handles at the top make removing the housing easy to get to the internals. Apple designed the handles to be part of the frame, so the Mac Pro is stable when lifted or moved. The top of the Mac Pro houses a twist latch that secures the enclosure to the frame, and there's a power button and two Thunderbolt 3 ports for easy access.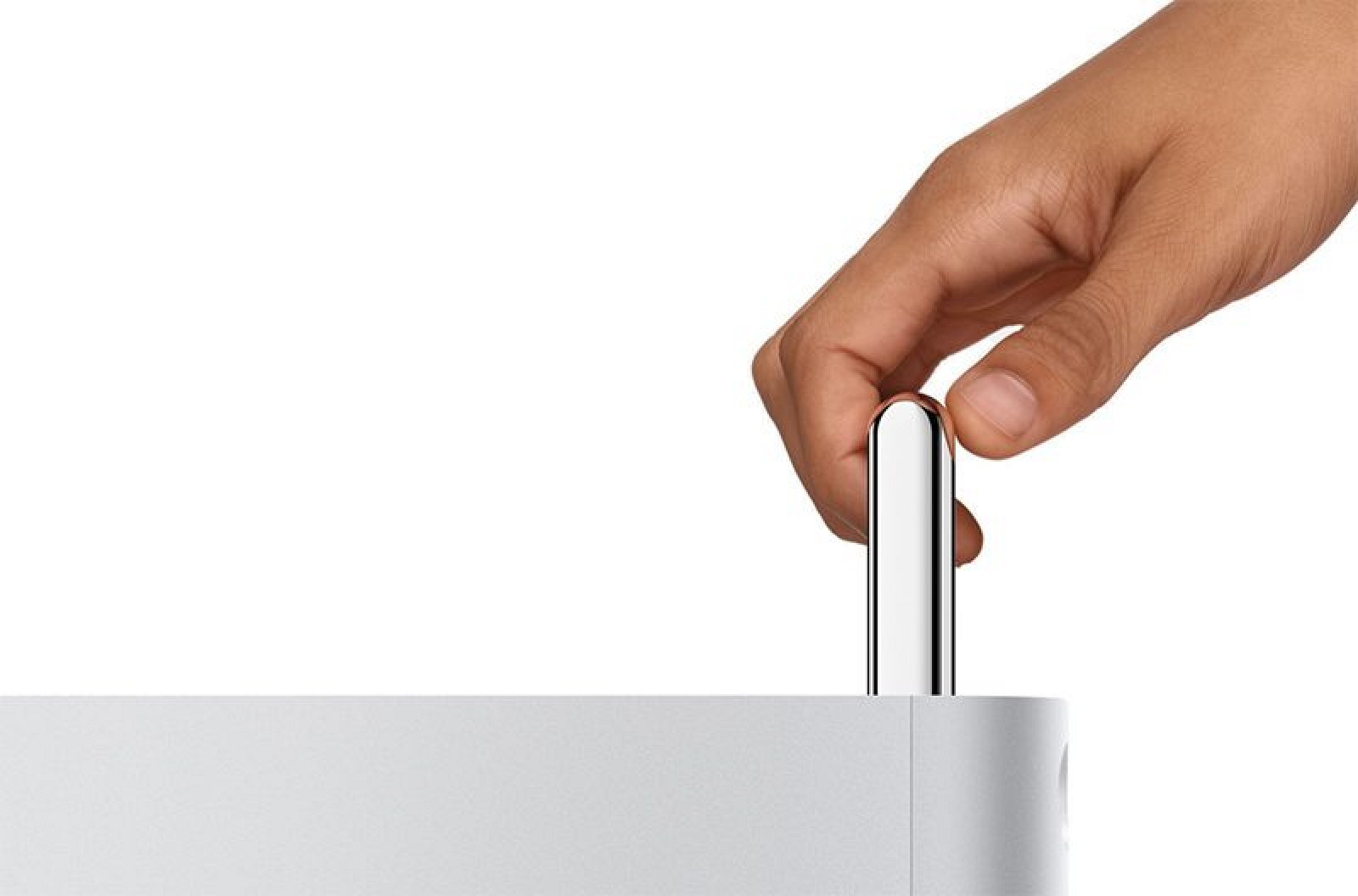 There are optional wheels that can be added to the Mac Pro to make it easy to transport from one location to another.
The Mac Pro measures in at 20.8 inches tall, 17.7 inches long, and 8.58 inches wide. With its optional wheels, it's a total of 21.9 inches tall. The Mac Pro weighs in at 39.7 pounds.
Internals
The Mac Pro features the most powerful components Apple has ever put into a Mac, and the design of the device makes it customizable and upgradeable to meet every pro user's needs.
It supports up to two MPX Modules or four PCI Express card slots, plus there are three full-length PCI Express Gen 3 slots and one half-length PCI Express Gen 3 slot with Apple I/O card, for a total of eight PCI Express expansion slots to work with.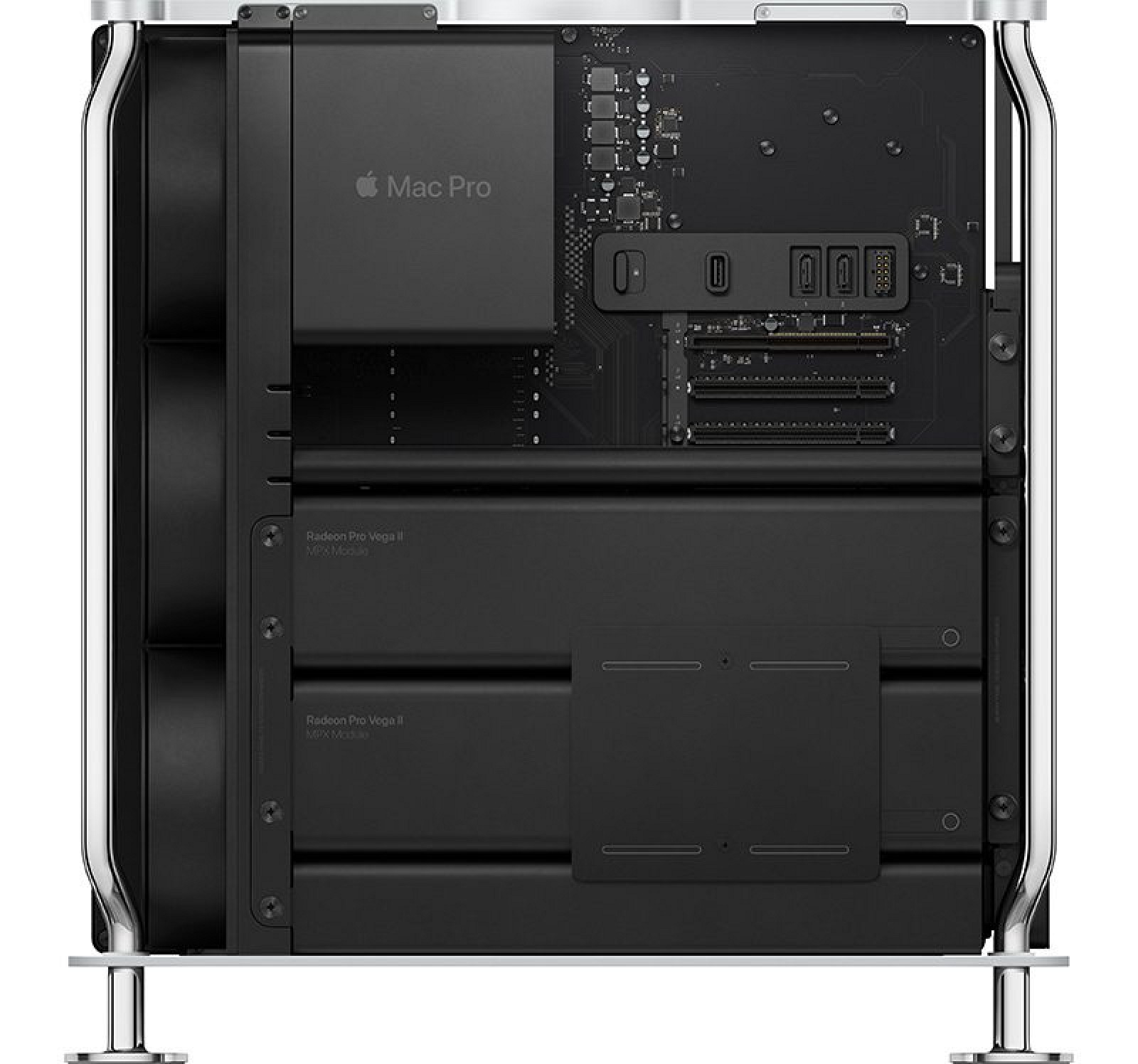 Mac Pro Expansion Bays
The Mac Pro supports two Mac Pro Expansion Modules, or MPX Modules that house the Mac Pro's GPUs. Each of the two MPX bays for the MPX Modules supports x16 gen 3 bandwidth for graphics, x8 gen 3 bandwidth for Thunderbolt, DisplayPort video routing, and up to 500W power.
Alternatively, MPX bay 1 supports one full-length, double-wide x16 gen 3 slot and one full-length double-wide x8 gen 3 slot. MPX bay 2 supports two full-length double-wide x16 gen 3 slots. Both offer up to 300W auxiliary power through two 8-pin connectors.

Each MPX Module, which fits inside the MPX bay, features an industry-standard PCI Express connector with additional PCIe lanes to integrate Thunderbolt, a first for graphics cards. The 500W of power each MPX Module has is a power capacity equivalent to the entire previous-generation Mac Pro.
Processors
The Mac Pro uses Intel's Xeon W processors, ranging from 8 cores to 28 cores. 28 cores is the most ever that Apple has ever made available in a Mac, but there are also several other lower-end options.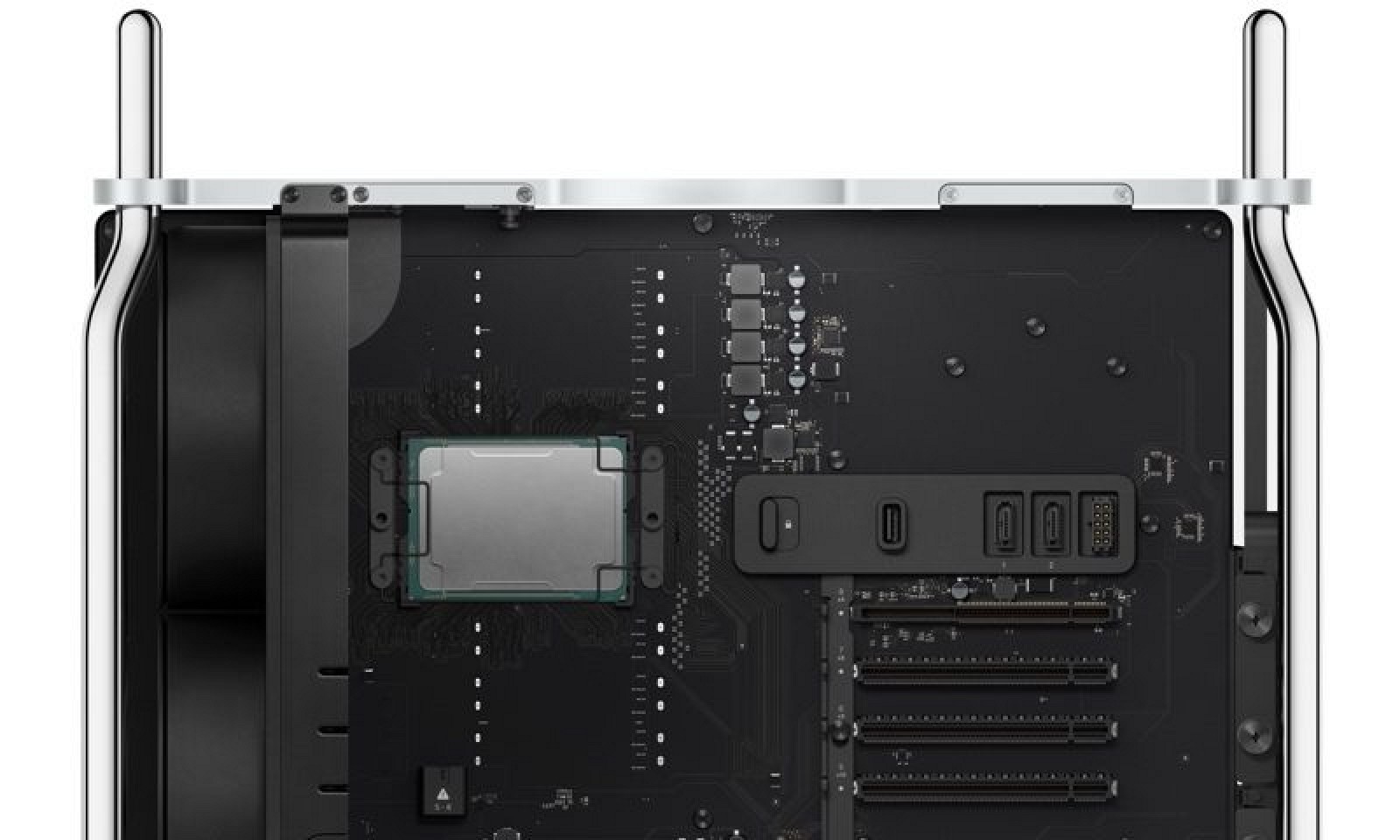 Specific details on each processor option are listed below:
8-core – 3.5GHz Intel Xeon W, 8 cores/16 threads, Turbo Boost up to 4.0GHz, 24.5MB cache.
12-core – 3.3GHz Intel Xeon W, 12 cores/24 threads, Turbo Boost up to 4.4GHz, 31.25MB cache.
16-core – 3.2GHz Intel Xeon W, 16 cores/32 threads, Turbo Boost up to 4.4GHz, 38MB cache.
24-core – 2.7GHz Intel Xeon W, 24 cores/48 threads, Turbo Boost up to 4.4GHz, 57MB cache.
28-core – 2.5GHz Intel Xeon W, 28 cores/56 threads, Turbo Boost up to 4.4GHz, 66.5MB cache.
The base version of the Mac Pro comes with the 8-core chip, with the other chips available as optional upgrades for an additional cost.
T2 Chip
The Mac Pro features a T2 Security Chip that makes sure that the lowest levels of software aren't tampered with and that only macOS loads at startup. There's a Secure Enclave that provides encrypted storage and secure boot capabilities.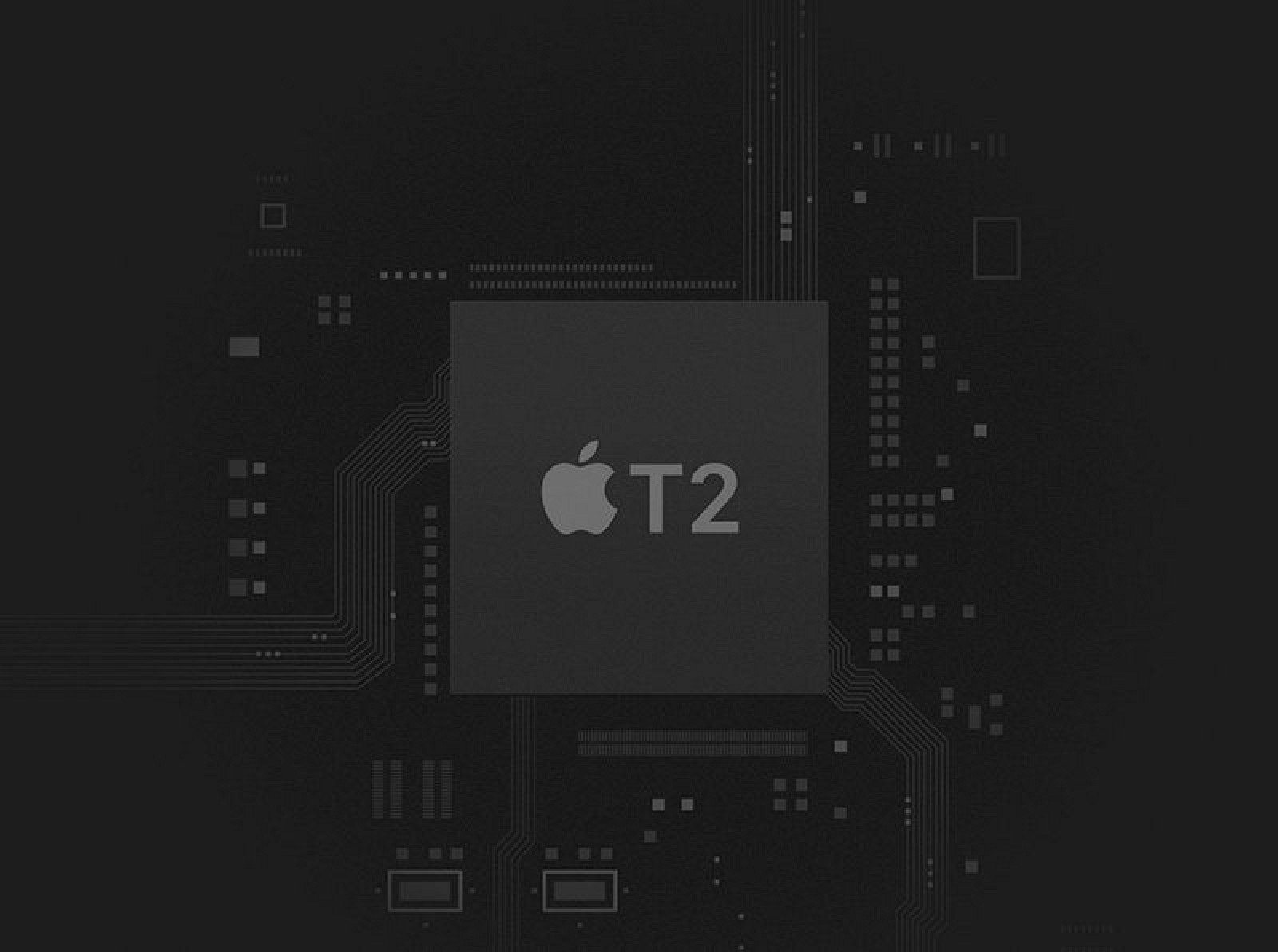 RAM
The Mac Pro supports up to 1.5TB of DDR4 ECC memory in 12 user-accessible DIMM slots, configured in different ways depending on the included amount of RAM.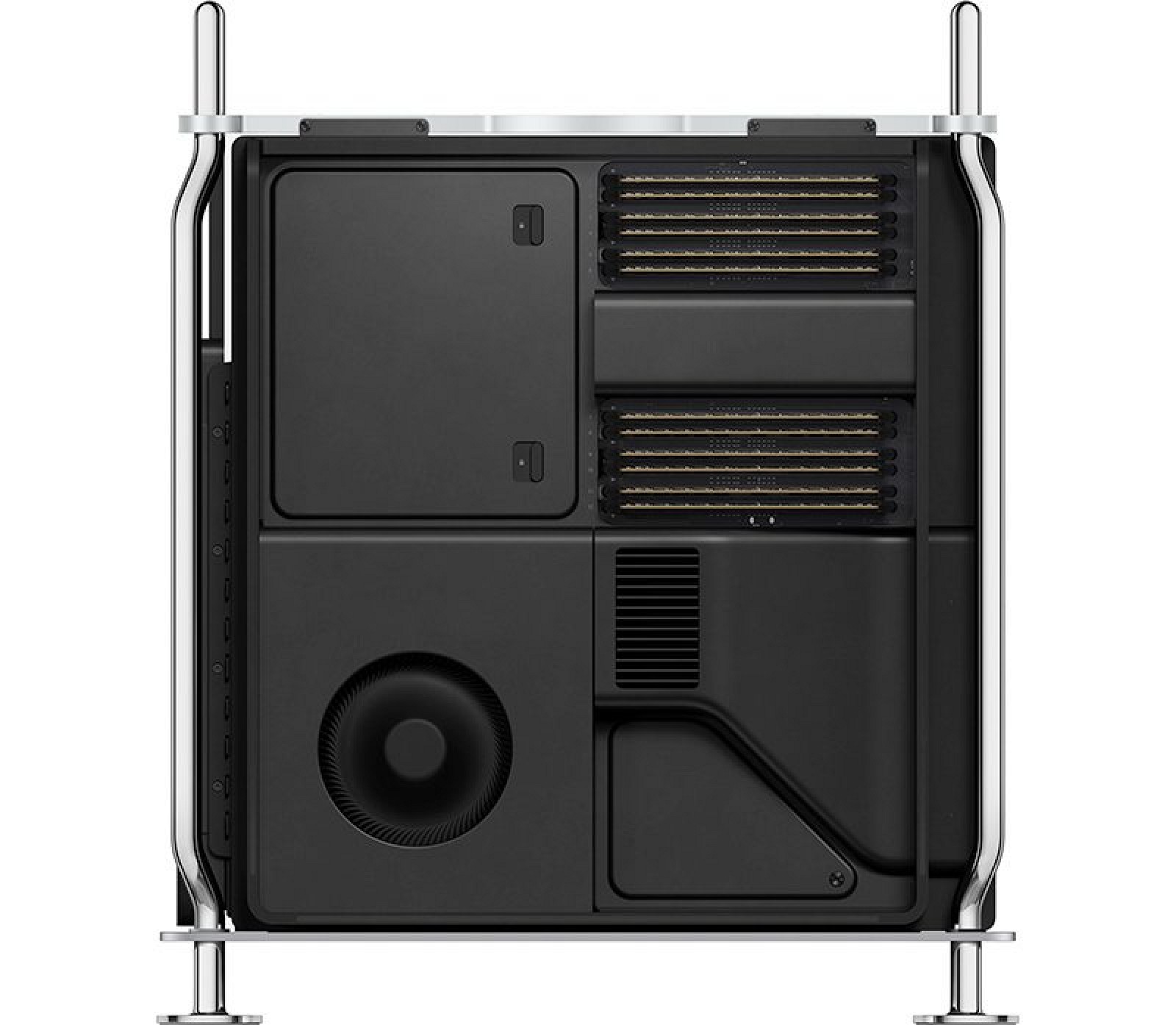 32GB – Four 8GB DIMMs
48GB – Six 8GB DIMMs
96GB – Six 16GB DIMMs
192GB – Six 32GB DIMMs
384GB – Six 64GB DIMMs
768GB – Six 128GB DIMMs or 12 64GB DIMMs
1.5TB – 12 128GB DIMMs (24 or 28-core processor required)
Apple's 8-core processor operates at 2666MHz, while the 12-core to 28-core processors operate memory at 2933MHz. All RAM is easy to access for upgrade purposes thanks to the dual access design of the Mac Pro.
At the high end, the Mac Pro offers up to 140GB/s memory bandwidth.
Graphics
Two Mac Pro Expansion (MPX) Modules can be configured with a up to four GPUs, with Apple offering the AMD Radeon Pro 580X, the AMD Radeon Pro Vega II, and the AMD Radeon Pro Vega II Duo.
The AMD Radeon Pro 580X features 8GB of GDDR5 memory, two HDMI 2.0 ports, four DisplayPort connections, and it supports up to six 4K displays, two 5K displays, or two Pro Display XDRs.
The Radeon Pro 580X comes in a half-height MPX Module that fits in an MPX bay and enables PCIe slot 2 for additional expansion.
The AMD Radeon Pro Vega II features 32GB of HBM2 memory with 1TB/s memory bandwidth, four Thunderbolt 3 ports and one HDMI port on card, two DisplayPort connections, and it supports up to six 4K displays, three 5K displays, or two Pro Display XDRs.
The AMD Radeon Pro Vega II comes in a full-height MPX Module that fills an MPX bay and uses extra power and PCIe bandwidth.
At the high end, Apple offers the AMD Radeon Pro Vega II Duo, which is two Vega II GPUs connected by an Infinity Fabric Link with 64GB of HBM2 memory (32GB per GPU), each with 1TB/s memory bandwidth, four Thunderbolt 3 ports, one HDMI port on card, and two DisplayPort connections. It supports up to eight 4K displays, four 5K displays, or four Pro Display XDRs.
The AMD Radeon Pro Vega II Duo comes in a full-height MPX Module that fills an MPX bay and uses extra power and PCIe bandwidth.
The dual Radeon Pro Vega II Duo setup available on the Mac Pro provides up to 56 teraflops and 128GB high-bandwidth memory.
Apple Afterburner
Apple has included a ProRes and ProRes RAW accelerator card that it calls Afterburner. The PCI Express x16 card is designed to accelerate ProRes and ProRes RAW codecs in Final Cut Pro X, QuickTime Player X, and other third-party apps that use ProRes.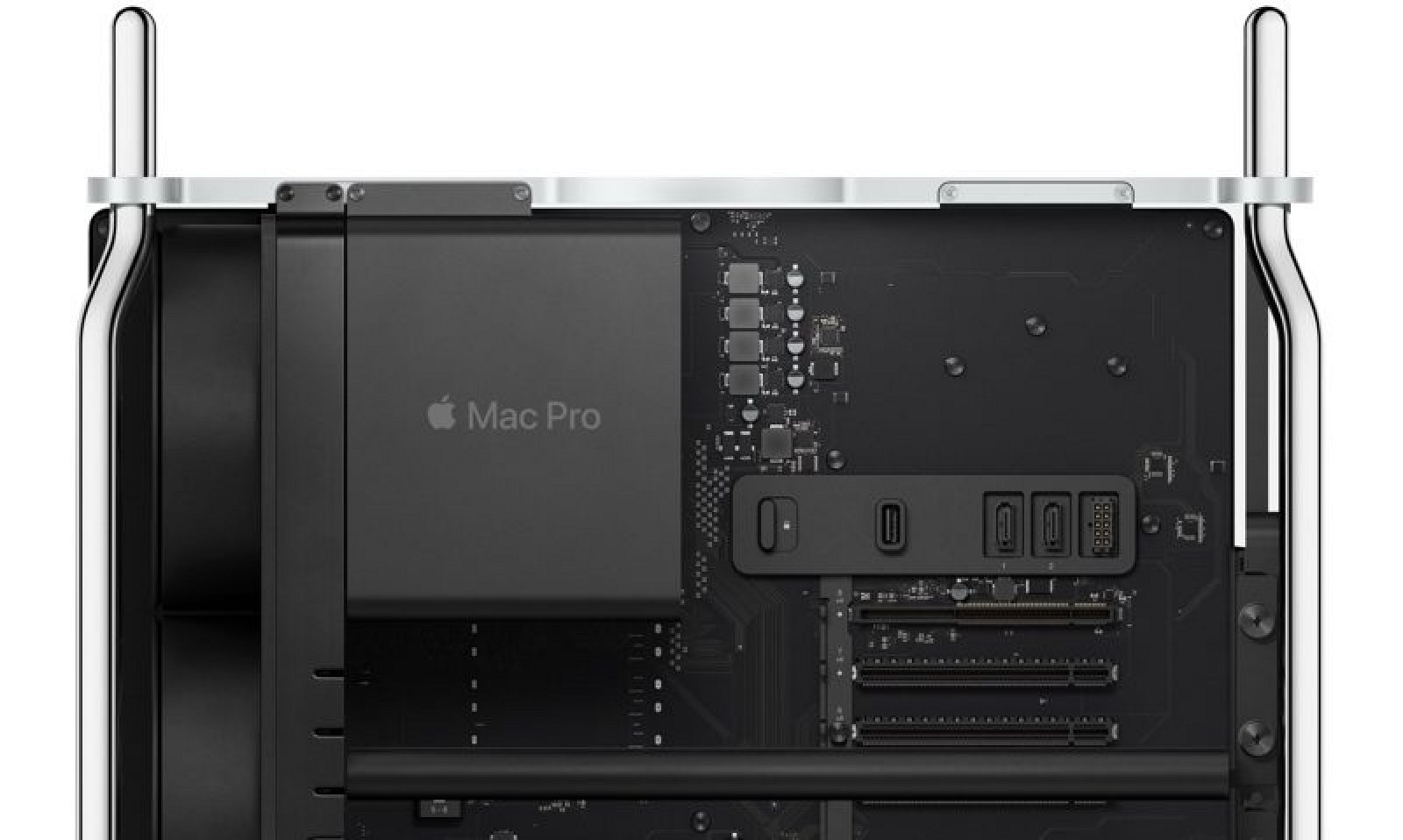 Afterburner supports playback of up to 3 streams of 8K ProRes RAW or 12 streams of 4K ProRes RAW.
Storage
The Mac Pro can be configured with up to 4TB of SSD storage that offers up to 2.6GB/s sequential read and 2.7GB/s sequential write performance. All Mac Pro storage is encrypted with the T2 chip.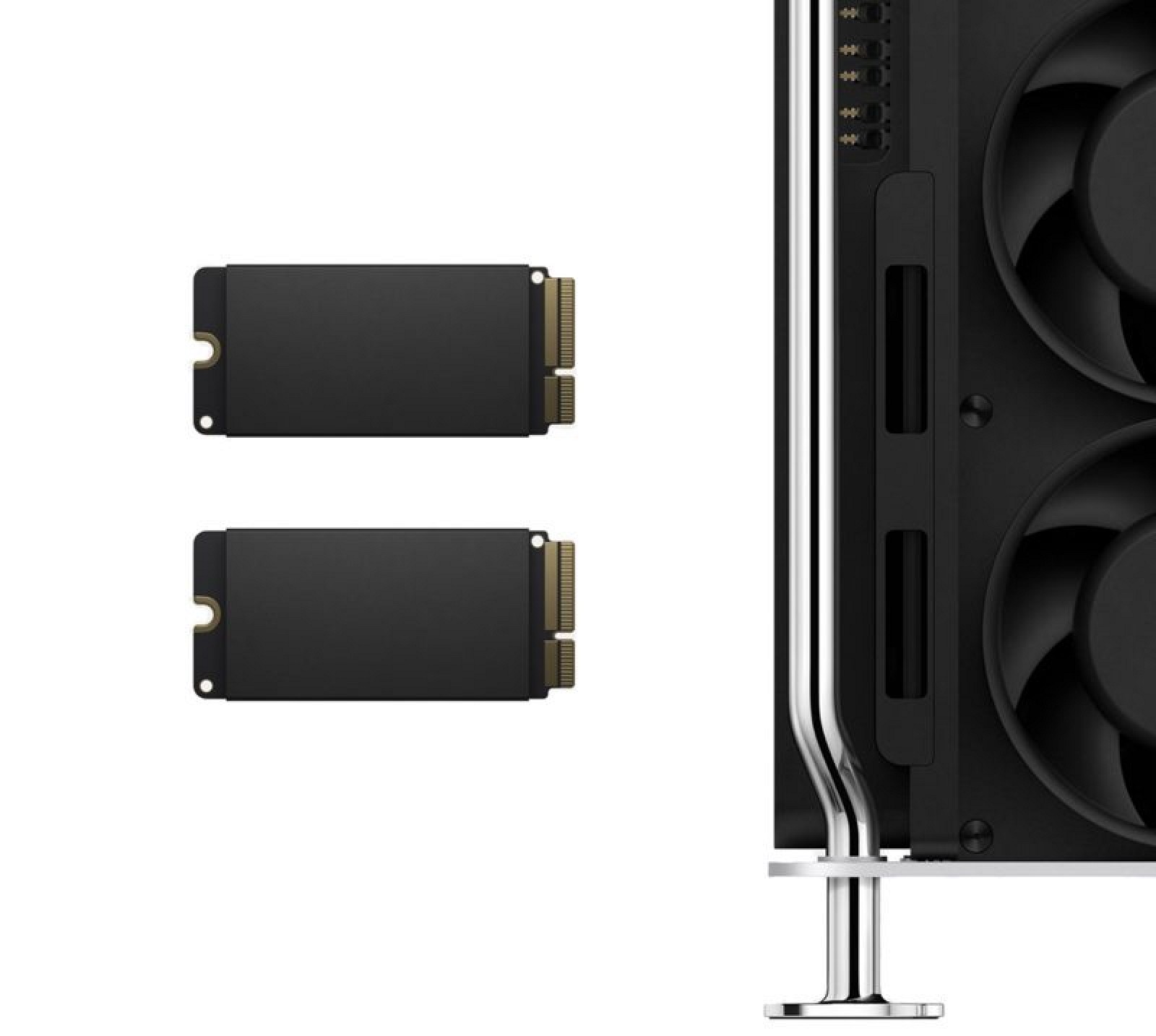 The base Mac Pro comes with a 256GB SSD, which can be upgraded to 1TB, 2TB, or 4TB.
Ports
The Mac Pro features two USB-A ports (up to 5Gb/s transfer speeds), two Thunderbolt 3 ports (up to 40Gb/s TB3 and 10Gb/s USB-C) with support for DisplayPort, and two 10Gb Ethernet ports available through an I/O card in the half-length PCI Express slot.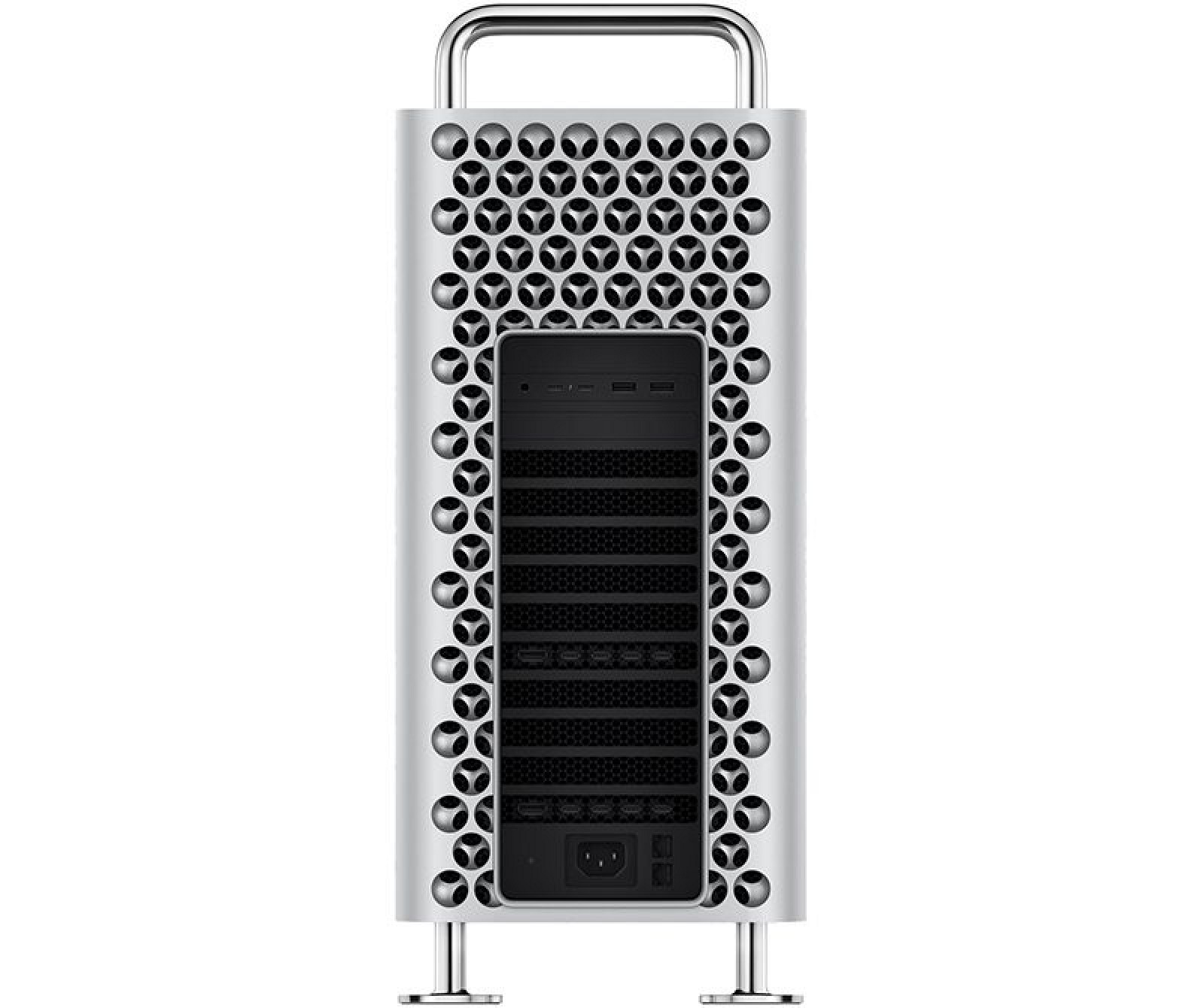 There are an additional two Thunderbolt 3 ports at the top of the Mac Pro's enclosure. With the MPX Modules, there are a total of up to 12 Thunderbolt 3 ports available at the high-end.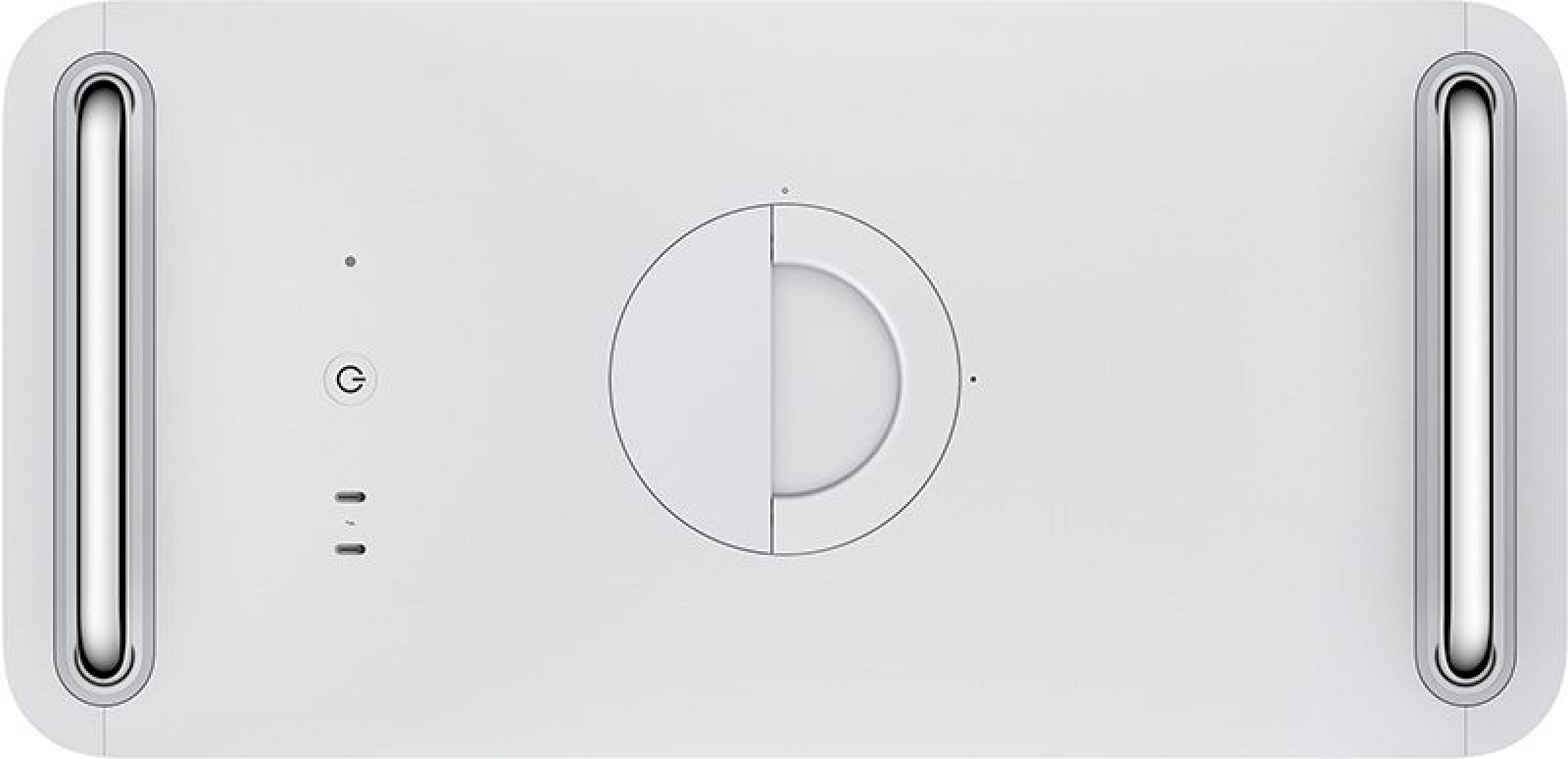 The total number of available Thunderbolt 3 ports will ultimately depend on the graphics configuration of the machine.
Other Features
Input Devices
The Mac Pro ships with a silver and black Magic Keyboard with Numeric Keypad and a silver and black Magic Mouse 2. A silver and black Magic Trackpad 2 is available as an add-on.
The Mac Pro also ships with a power cord, a USB-C to Lightning cable, and a 1.4-kilowatt power supply.
Audio
The Mac Pro features built-in speakers along with a 3.5mm audio jack.
Pro Display XDR
To go along with the Mac Pro, Apple designed the Pro Display XDR, a 32-inch 6K display with a resolution of 6016 x 3384 and more than 20 million pixels.
The display offers 1,600 nits peak brightness and 1,000 nits sustained brightness, it features a superwide viewing angle, and a 1:000,000:1 contrast ratio for what Apple calls extreme HDR.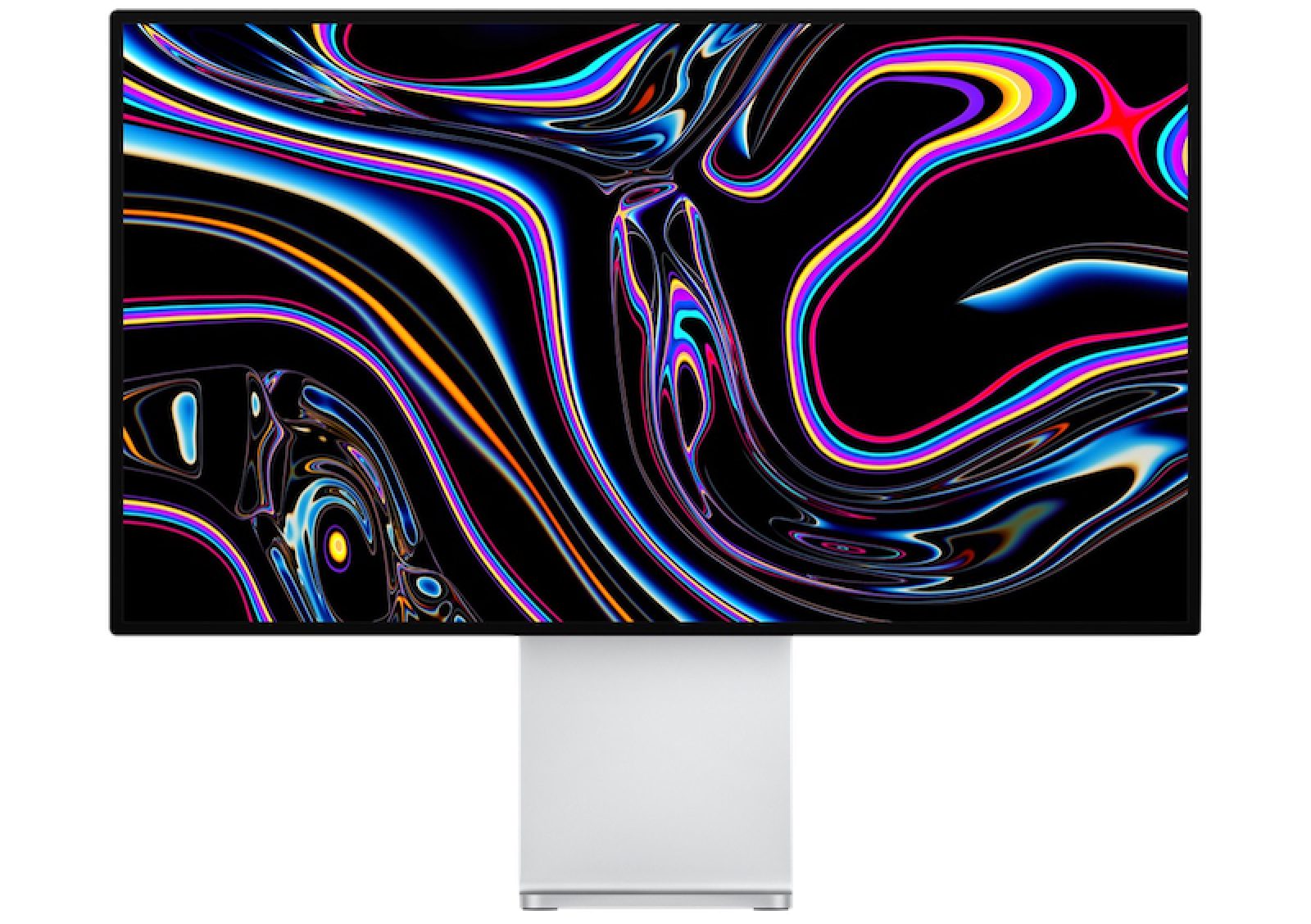 The Pro Display XDR was designed to look similar to the Mac Pro with a lattice pattern that doubles as a thermal system. It features edge-to-edge glass with a 9mm border and it is sold alongside a Pro Stand that can shift from portrait to landscape mode.
For more on the Pro Display XDR, make sure to check out our Pro Display XDR roundup.
Release Date
Apple is planning to release the new Mac Pro this fall, perhaps as early as September. Apple's site temporarily listed September as a release date before the information was removed.
2013 Mac Pro
Apple isn't releasing the updated 2019 Mac Pro until the fall, and in the meantime, the 2013 Mac Pro is still for sale on Apple's website, though mentions of it are difficult to find on Apple's site.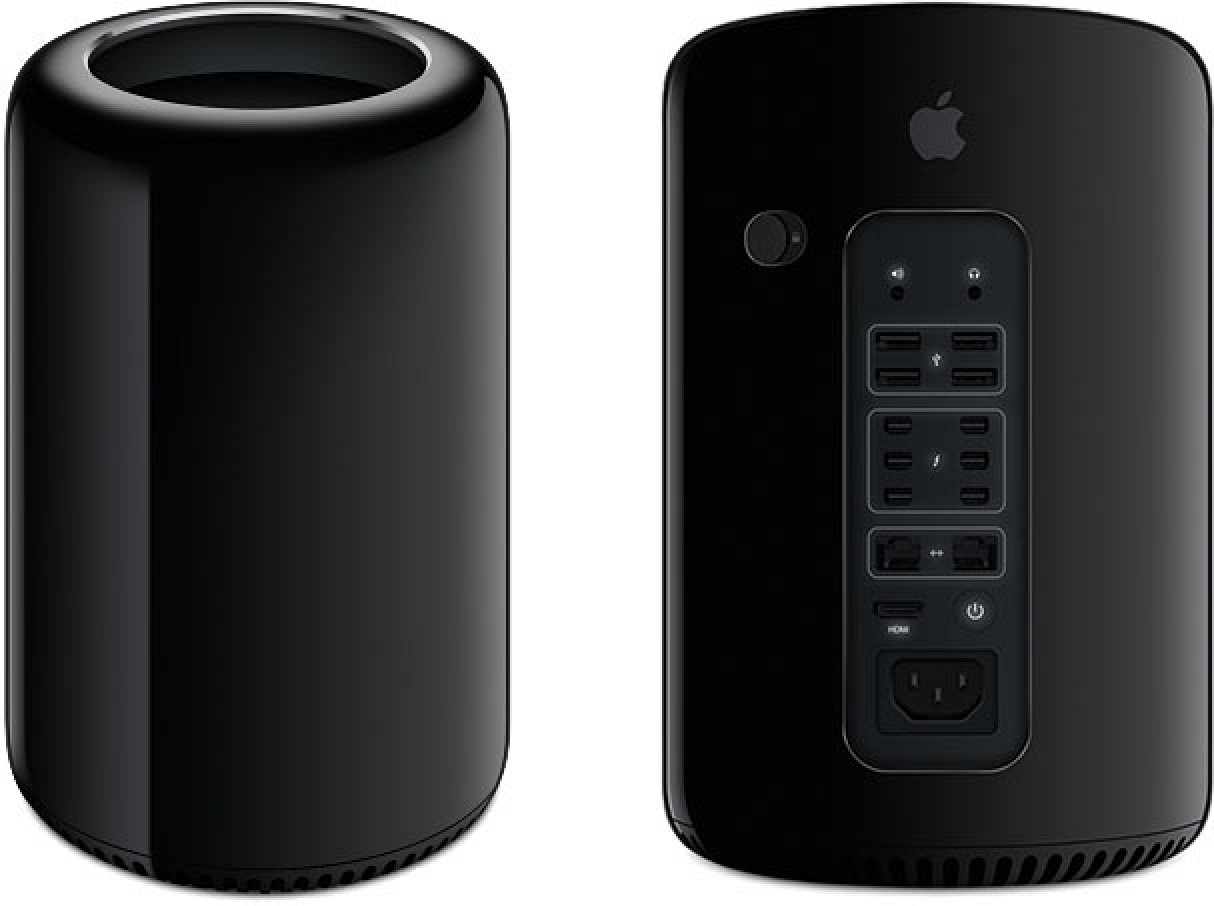 The existing Mac Pro was last updated on December 19, 2013, and the base model features a 6-core Ivy Bridge E processor, upgradeable to 8 or 12 cores, and dual AMD FirePro graphics chips. With a new Mac Pro on the horizon and the iMac and iMac Pro available, there is little reason to purchase a 2013 Mac Pro machine, though Apple did drop the price of the higher end SSD upgrade options in July 2019.

July2019 Jul 9 Apple Drops Prices on High-End Storage Upgrades for iMac, iMac Pro, MacBook Pro, Mac mini, and Mac Pro Jul 1 macOS Catalina Brings Back Expansion Slot Utility App Ahead of Mac Pro Launch June2019 Jun 28 Apple's New Mac Pro Won't Be 'Made in USA' as Production Reportedly Moving to China Jun 10 Apple Says New Mac Pro and Pro Display XDR Are Coming in September [Updated] Jun 5 New Mac Pro is Quieter Than iMac Pro, Has Optional Wheels, and Was Kept in Top-Secret 'Stealth Enclosure' Jun 4 How to See What the New Mac Pro Would Look Like on Your Desk Jun 4 Apple Envisioned New Mac Pro's 'Cheese Grater' Design Years Ago Jun 3 Roundup: First-Look Impressions of the New Mac Pro Jun 3 Adobe and Other Developers Are 'Incredibly Excited' About New Mac Pro Jun 3 Apple Reveals All-New Mac Pro With Up to 28-Core Processor and 1.5TB of RAM, Starting at $5,999 March2019 Mar 19 Apple Drops Prices on MacBook Air and Mac Mini SSD Upgrades, Lowers Cost of 64GB Mac Pro RAM Price February2019 Feb 20 Apple Mulling Preview of New Modular Mac Pro at WWDC in June Feb 18 16-Inch MacBook Pro, 6K Apple Display, AirPower, AirPods 2 and More Predicted for 2019 [Video] Feb 17 Apple Said to Release 31.6-Inch 6K Display With Mini LED-Like Backlight Design in 2019 January2019 Jan 28 2013 Mac Pro Launch Was 'Postponed' Due Partly to Shortage of 'Made in USA' Screws December2018 Dec 31 What to Expect From Apple in 2019: New iPhones, Modular Mac Pro, iPad mini 5, Updated AirPods and More Dec 19 Apple's Newest Mac Pro Turns Five Years Old Today Dec 12 Intel Unveils Next-Generation 'Sunny Cove' Processors and Graphics Appropriate for 2019 Macs April2018 Apr 5 Apple's Revamped Mac Pro to Launch in 2019 Apr 2 Apple Plans to Ditch Intel and Use Custom Mac Chips Starting in 2020